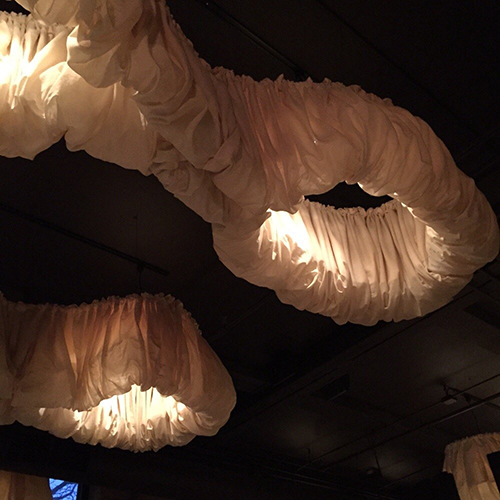 Lighting at Oak + Char
Hey there!
I hope you are enjoying the new season! This episode has us all over the map. From Angry Crab in West Rogers Park to Preservation Bread & Wine in Geneva to Oak + Char in River North.
This week I chatted with Executive Chef David Wang and Tyler Mendoza, managing partner at Oak + Char, who jokingly said his title could also be fifth string bartender and third string bus boy! The beverage program is an important part of Oak + Char's concept so we chatted about that as well as the design, which our Check, Please! guests discussed as well! Here's what Tyler had to say:
Q: You have an impressive whiskey collection at Oak + Char. Can you talk about some of the standouts on offer and give some must-try suggestions?
Tyler Mendoza: We wanted to really focus on whiskey at Oak + Char, having fallen in love with it over the last few years. Right now the list is at about 125 American whiskeys and I'm at the point where I will need more shelves to hold it all! We focused on three things when it comes to whiskey selections. A whiskey has to have a story, it has to taste good, and it has to be originally distilled by the label.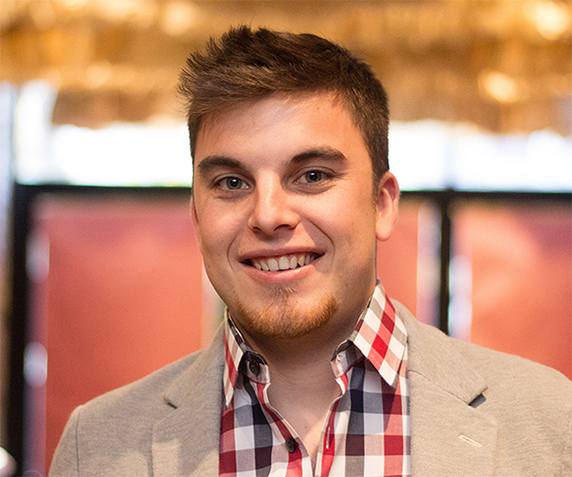 Tyler Mendoza, managing partner at Oak + Char
Q: What are your three favorite whiskeys?
Tyler Mendoza: I'd say my three favorites are…
Our private barrel of Four Roses Single Barrel: It is honestly one of the best bourbons I've ever had. It is 120.4 proof; 11 years, six months old; and the OBSF mash bill. It has great spice and fruit notes and is incredibly balanced. It doesn't burn like 120 proof but still had a good kick to it. It pairs extremely well with our food, and I always suggest it neat. It's one of four really solid private barrels we have.
We have a fairly large reserve list and my favorite from that list is Willett Family Estate Rye. We have the two, six, and eight year-olds, and it's a great example of how whiskey changes over time. The two-year is super spice forward, but not unbalanced. It doesn't have too much vanilla and oak to it yet, but when you move to the eight-year, it does. The spice notes mellow out but still give a good hit in the backend and it has a really good sweet note from age.
And we just got a new one in called Wyoming Whiskey. It's brand new and the cool thing about it is that the family owns the grain, water, land, and still so you could call it single estate if that term existed for whiskey. It makes a great Old Fashioned.
Q: Oak + Char has an extensive beer menu. What are some tips for pairing beer with food?
Tyler Mendoza: If we were forced to drink two things for the rest of our lives, it would be whiskey and beer. It is often overlooked how well beer pairs with food. The fruit and acidity in a farmhouse, for example, can provide the same type of pairing that a Riesling can. We look for beer that will pair really well with food, and I'd say probably 85% is meant to be paired (the other 15% is just really good). The beers I've had that pair really well are:
Lighter crisper beer (pilsner for example) pairs really well with seafood and any cuisine that has spice as a backbone (Mexican and Asian for example). The crisp acid will help cut the extreme of the spice notes and balance really well. It's the same logic for fish and white wine: acid, crisp, and lightly fruity notes help cut through the fat and salinity of fish.
Hoppy beer (IPAs) pairs really well with roasted, grilled, fattier proteins (think duck, game), and heavier starches. The malt elements complement really well with the roasty flavor while the fat helps mask the really bitter notes in the beer.
Porters and stouts pair really well with smoked, roasted, and barbequed heavier dishes as they will complement the umami flavor in meats, cut through the fat, and provide a sweeter note that helps balance out the roasted flavor.
Honestly I treat beer just like I treat wine. Lighter beer (pilsner, amber, hefewiezen, saison/farmhouse) follows similar rules to white wines. Heavier beer (porters, black ales, stouts) is like red wine. And anything that is really hoppy/malty pairs with fatty foods.
Q: The menu has many global influences. What inspires you and what are some new dishes you are excited about?
Executive Chef David Wang: A lot of my passion and inspiration comes from my travels around the world – the flavors that I've tasted and the experiences I've had. It also helps that my Chinese background allows me to dig into the flavor library of Asian cuisine. In addition, having worked under Jose Garces, I've learned a lot of Spanish techniques as well as ingredients. The dishes I'm most excited about are the duck kielbasa meatballs with Duck heart gravy and the Fennel and Brussel salad tossed in ajiwan oil. There are a lot of complex flavors in this dish of simple meatballs and gravy. The pork tails with bacon sambal is another dish that is exciting for me. It's fatty, unctuous, smoky, crunchy, and spicy, and great with beer.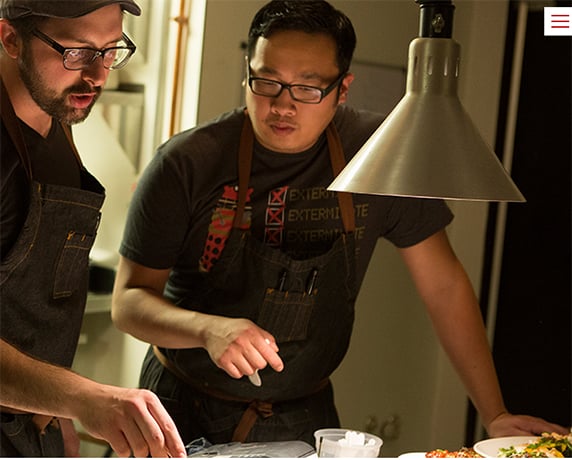 Executive Chef David Wang
Q: The decor at Oak + Char is inspired by the great Chicago Fire. Can you talk about it a bit?
Tyler Mendoza: The design was inspired by the Chicago Fire and with the idea of rebirth. This was the first solo restaurant project for me and my dad, and we liked the idea of the rebuilding of the city. We knew that we took over a very well-known restaurant (Graham Elliot's restaurant). The building itself is over 100 years old, and we wanted to highlight the brick and timber as much as we could. The charred wood along the walls is meant to tie into the burnt buildings immediately after the fire, while the live edge white oak tables (all from one tree) are meant to be the start of the rebirth, which is the food and drink.
Q: Let's talk about the much remarked upon lighting fixtures…
Tyler Mendoza: The lights are the most talked about feature of the venue and they serve many different purposes. We wanted to soften the space, and lower the ceiling line, and to provide contrast to the harder materials (wood, steel, concrete) we used throughout the rest of the space. They are also functional as they are sound deadening and diffuse the light in such a way that you will not see the light bulbs unless you look straight up. They also serve as an in-house Rorschach test. Everyone thinks they look like something different!
Cheers,
Catherine