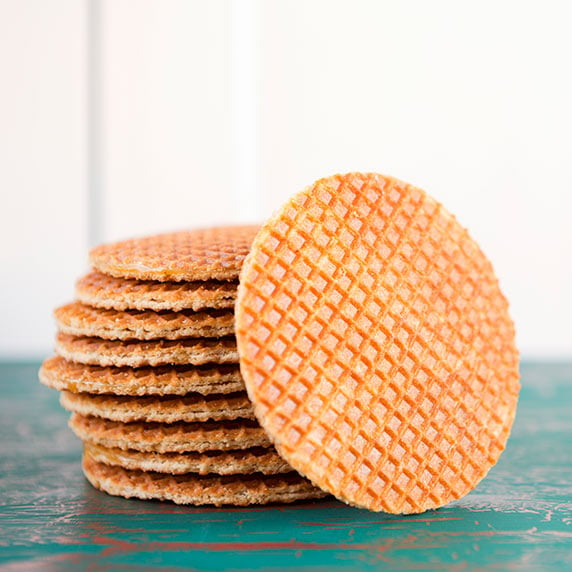 Stroopwafel
Each year during the final week of April, the citizens of the Netherlands observe a festive national holiday: Koningsdag (King's Day), in which they pay tribute to their reigning monarch – currently, King Willem-Alexander. This year, to mark the King's 50th birthday, he and Queen Maxima are hosting a special dinner and photo op for 150 somewhat-randomly-selected "commoner" guests at the royal palace. Entrants could win a chance to hobnob with royalty if they meet one or more of the following eligibility requirements:
share the King's birthday (April 27)
live in the Netherlands
are more than 20 years of age
are celebrating a "jubilee year" (a birth year ending in 2 or 7).
Throughout the country on that day (whether dining at the Palace or not), it is customary to dress in orange, paint your face orange, dye your hair orange, wear a mock orange crown…you get the idea. This is because the royal family is descended from a European princely dynasty, the House of Orange.
What might be on the menu for this royal dinner? And what foods are popular in the land of windmills, tulips, wooden shoes, van Gogh, and Rembrandt? Here are a few…
Hollandse Nieuwe (Dutch New Herring) – This is arguably the most popular consumable in the Netherlands, sold in shops and also on the street. It can only be called "new" herring if it is caught between May and July, and it is generally treated with a salty preservative and served with chopped onions and gherkins (small pickled cucumbers). If you want to eat it like a true Dutchman (or woman), lift it up by its tail and take a bite from underneath. If this is not your thing, there is also a sandwich incorporating new herring called a "broodje haring."
Cheeses – The Dutch pride themselves on their cheese, judging from the plentiful cheese markets all over the country. The most popular homegrown varieties are Gouda (Goudse kaas), Edam (Edammer), and Leyden (Leidse kaas). These are all readily available in the U.S., and are named after the towns in which they originated…Gouda, Edam, and Leiden.


A Dutch cheese

Patat, or Vlaamse frieten – The Dutch version of French fries. The customary condiment is not ketchup but a low-fat mayonnaise, or a peanut sauce. This and many other "fast foods" can be obtained at "snackbars" in the cities. There, you might also find…
Bitterballen – the Dutch version of a meat croquette, a very popular snack, and not bitter at all. Chopped veal or beef is formed into balls, dipped in a flour and butter roux, rolled in breadcrumbs, and deep-fried until golden and crunchy. They are best served hot with a stoneground mustard such as the wildly popular Boetje's, which was created in a garage in Rock Island, Illinois in 1889. Bitterballen, in addition to its presence at snackbars, is a staple at the local pub, to be consumed with a beer or a glass of wine during the Netherlands' version of late afternoon happy hour.
Beverages – In addition to the usual alcoholic libations, the Dutch also observe coffee time (in the morning between breakfast and lunch) and tea time (like many other cultures, between lunch and dinner). Coffee and tea are equally popular throughout the country, and both are served with…
Stroopwafel – a crisp, round cookie made from two very thin "waffles" glued together with a caramel-flavored syrup (stroop). Like the cheese, Stroopwafel also originated in Gouda. Before you bite into it, let it sit first for a few minutes on the rim of your hot drink, so that the steamed filling becomes warm and gooey.
Drop – This is licorice, very big in the Netherlands. There are a variety of different kinds, hard and soft; perhaps the most popular is salty licorice (zoute drop).
It isn't easy to find true Dutch cuisine in Chicago, but recently, Check, Please! featured the Lincoln Park eatery de Quay, at which chef David de Quay "offers a modern fusion of Dutch and Indonesian cuisine." It's the closest you're likely to get in the Midwest to a Dutch meal without a trip to Amsterdam…and hey, if you really need an excuse, there's Stroopwafel!