A Conversation with the Duo behind SBK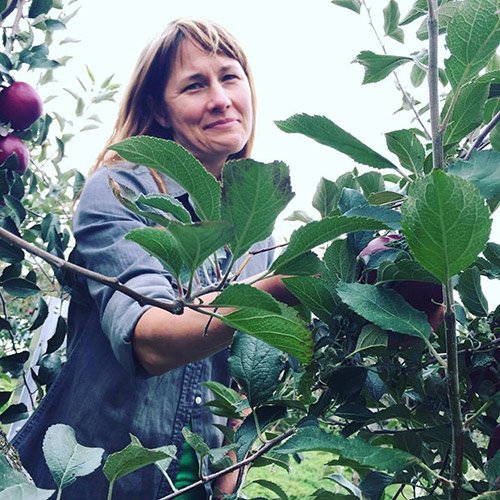 Hello everyone! This week we visited Sauce and Bread Kitchen (SBK) in Edgewater, Asian Harbor in Homewood, and Beatrix in River North. I spoke with SBK proprietors Mike Bancroft and Anne Kostroski about how SBK started and all of the other interesting things they are working on besides running the restaurant. Here's what they had to say:
Q: You and Anne come from different backgrounds in the industry. Can you talk about each of your cooking styles?
Anne Kostroski: I kneaded my first loaves of bread 23 years ago at the original Breadsmith in Milwaukee, Wisconsin. Since then, my passion for pastry and bread has taken me all over the place…with Michel Richard at Citronelle in Washington, DC; Wine Spectator and Tra Vigne restaurant in St. Helena, California; and L'Etoile in Madison, Wisconsin. I went to the Culinary Institute of America-Greystone on a scholarship from Woman Chefs & Restaurateurs. A brief stop in Nashville led to the creation and opening of City House. I came back to the Midwest and opened Crumb Chicago in 2009 and Sauce and Bread Kitchen in 2013 with Mike Bancroft. The thing I am looking for most in the food I cook and bake is for there to be a balance – whether it's rich with an acid to balance or a bit of salt to counter sweetness. I guess you might say my food is rustic in appearance but surprises with flavor.
Mike Bancroft: If I were to describe my food it would be "comfort in unlikely ingredients, bent on fermentation."

Mike Bancroft, SBK
Q: SBK has unique origins and is committed to supporting the community. Tell me about Crumb, Co-op Sauce, and STEW: Supper Club; and how they all came together to become SBK. Also, we're curious about the community programs you are running through SBK?
Anne Kostroski: I started Crumb when I moved to Chicago in October of 2009. Originally I rented kitchen time by the hour from Tipsy Cake when it was still located in Humboldt Park. Gradually I needed more room for production once I decided to sell at the Logan Square Farmer's Market and Green City Market. A friend of Mike's (Amy Teri) had a kitchen available in her bar that needed tenants – the Darkroom. We rented that space for two years and during that time we created the STEW Supper Club as a way to experiment with ideas and use more of the foods from our farmer friends. We also needed to pay the rent!
Mike Bancroft: My culinary roots come from my community arts practice through Co-op Image working with kids in Humboldt Park and the West Side, where Co-op was based until 2013. We had a number of projects after school and during the summers including our art center where kids would pile in with flamin' hots drenched in nacho cheese and ground beef from the bodegas. Although that sounds delicious right now, it was pretty obvious it was not a good habit to encourage! Some of these kids would go the whole day without anything but these gnarly snacks in a Styrofoam box so we started mixing up simple snacks that we would provide as an alternative. And the kids started to get into making them. As we outgrew our first space, we started to connect with the community gardeners in the area and started to grow stuff like chilies that would later be our first harvest for Co-op Sauce (named after the not-for-profit), and use the outdoor spaces for programming. We developed a curriculum called Chi-Town Chefs around our new connections with the gardens/culinary arts and we built a studio kitchen where the kids could produce a cooking show by the same name (Chi-Town Chefs). The show was based on healthier preparations of family recipes and we would actually grow some of the produce that was featured on the show. In the summer the crew would be in the gardens two days a week and in the kitchen 2 days. To make a long story short, I cut my culinary chops cooking with a bunch of picky teenagers. The sauce grew out of trying to create a value added product that could help raise money for Co-op Image, while creating jobs for the teens. There were many fails but I finalized the Smokey Mole (sauce) as the first recipe for production and we began to bottle it at shared kitchens. We eventually set up a kitchen above Chicago Hot Glass where we were running the Co-op Glassworks program with the kids. This program is still running today in a couple of incarnations and we still generate much needed funding for it through sauce sales and commissions. In 2009, Anne moved in with me from Madison and we started the Stew Supper Club to raise money for an alternative gallery space I was running out of my garage called Garage Spaces. Anne would also help out with Chi-Town Chefs and she started Crumb around the same time. We outgrew our respective kitchens and I invested my own money in privatizing Co-op Sauce as the non-profit was unable to invest in scaling up production. So Anne and I moved into the Dark Room Bar kitchen together and the rest is history. Anne is an amazing collaborator and puts up with all variety of the alternative job training we do through the Co-op Sauce side. She has hired a number of the youth from the programs for Crumb and we still have staff from that era in Sauce and Bread Kitchen and Co-op Sauce. All of our ventures were very much born from a community response to our products, I really do believe in the power of food bringing people together and consider it an obvious extension of my visual arts background.

Co-op Sauce
Q: SBK isn't just a place to grab brunch/lunch – it's practically a cottage industry. Can you talk a bit about the hot sauces, bread and Munchy bars that are being made there?
Mike Bancroft: We produce a bunch of great stuff every year out of our little Rogers Water neighborhood storefront including over 300,000 bottles of Co-op Sauce, thousands of Crumb boules, pastry, and taralli found at your favorite farmers markets and Chicago retailers. Munchy Bars are also available in cafes and stores around the Midwest. We also house some unique collaborations with other Chicago makers like cider vinegars in Koval Barrels, miso with beans from Breslin Farms, kimchi/gochujang for the soon to open Kimski's, and a number of great collaboration sauces with people like Scrumptious Pantry, Dark Matter Coffee, and a bunch of awesome Chicagoland Brewers. I like the term "cottage industry." Many of these projects were born out of necessity and wouldn't be possible or as enjoyable without the other makers, shakers, and growers that we have the honor to work with.
I'll see you tonight and stay tuned next week for three more great restaurants and some more inside dish right here!
Cheers,
Catherine