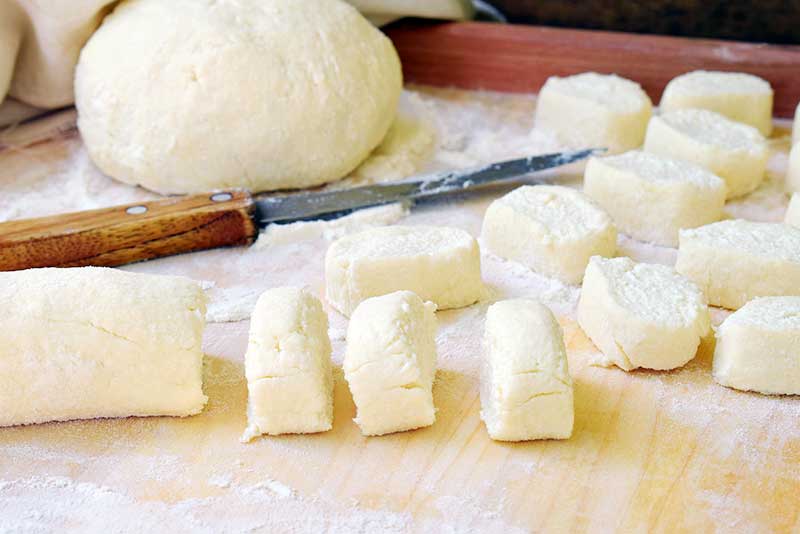 Hello! This is the last new episode before we take a break for the Olympics. This week we visit Mambo Italiano in Mundelein, Bang Bang Pie Shop in Logan Square, and Rhyme or Reason in Wicker Park. I'm Italian and during the cold winter months, there is nothing I crave more than a bowl of pasta and a glass (or bottle!) of a full-bodied red wine. So this week I spoke with Briana Cardone, chef and owner of Mambo Italiano, about growing up Italian and about her restaurant! Here's what she had to say:
Cat: You are Italian-American and, in traditional fashion, grew up with food as an important part of your life. So much so that you opened an Italian restaurant! Tell us about your background and what inspired you to open Mambo Italiano.
Chef Cardone: My husband and I are both Italo-American. But we grew up very Italian. I think that's what attracted us to each other. Our families grew everything in the garden and made everything from scratch — bread, pasta, wine. Food was the center of everything; it was our world. Everyone was invited, and if you were there, you were family. Fast-food? We didn't even know what that was. Not only do we both speak Italian, but our ethnicity is permeated in our blood. The first question Sal (my husband) asked me the day he met me was: "What do you want to do with your life?" When I responded "One day I'll be sitting in my own restaurant watching my kids run around," his second question was "do you want to get married?" So clearly we had the same aspirations in life. This was an ongoing dream we had discussed together from 1999 until Sept. 15, 2004 — the day we opened Mambo Italiano. I'll tell you a little secret. My other dream is to have our own cooking show — to share our recipes and passion with the world.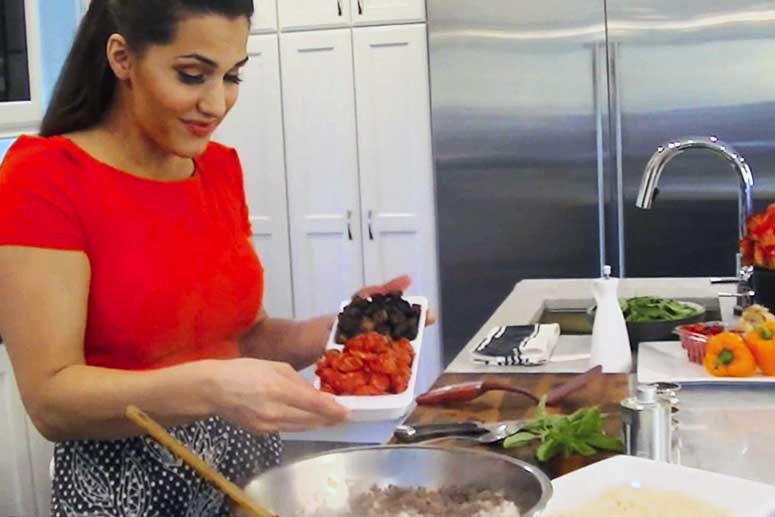 Briana Cardone
Cat: Ok, those cannoli puffs. They're decadent and delicious! What other Italian classics on the menu showcase your creative culinary flair?
Chef Cardone: Let's talk Puff! The Cannoli Puffs, also known as Crispuffs, are an original creation of my husband. I know there are similar Italian desserts, but there's nothing like Sal's own Crispuffs. We've recently opened a dessert manufacturing company called La Cucina, which is distributed to a variety of Chicagoland restaurants. Not only do we home-make the puffs but we also make just about everything else at Mambo Italiano. We serve 9 to 11 weekly specials that change throughout the seasons. I would highly recommend trying them all. We are known for our delicate homemade Stuffed Gnocchi. Our not-so-traditional Braciole is always a huge hit! Hand-made Squid Ink Pasta is one of my favorites. Our Duck-Stuffed Roasted Anjou Pear is another killer as is the beautiful Roasted Acorn Squash with house-made Fettuccini and Jumbo Sea Scallops. The list could go on and on. We love creating old world dishes with a new age flair.
Cat: And no meal is complete without a great glass of wine! Your family is in the wine-making business and you pride yourself on your wine list which you curate. Can you recommend a few stand-out bottles that you absolutely love and tell us why?
Chef Cardone: I do pride myself on wines. I'm a bit of a snob when it comes to wine. My husband and I both had the pleasure of working beside my father Rudolph Valentino DiTommaso at Valentino Vineyards. From the vine in the field to the grapes on the press, my husband and I know exactly what goes into making delectable wines. I would have to say that two of my father's wines are my favorites: Valentino's Signature label and Valentino's Red Port. There are two reasons I'm in love with these wines. First, the flavors and taste of these wines represent superior love and passion for the art of making wine. They're full bodied and extremely viscous. The legs of the wine hang like EVOO on the glass. The nose is something like a perfume so aromatic and beautiful. Second, the grapes are grown with no harmful chemicals. Instead of using a chemical fungicide to prevent the plants from infection, you'll see my dad out there spraying whole milk on the vines as a natural preventative. Let's not forget I'm also a Champagne lover, and my favorite on the list is Perrier-Jouet Brut Rose.
Well I will toast to that! Here's to great dining and drinking this week!
Cheers,
Catherine
For an additional serving of inside dish, follow Catherine on Instagram @catdeorio and Twitter @CatCalls.