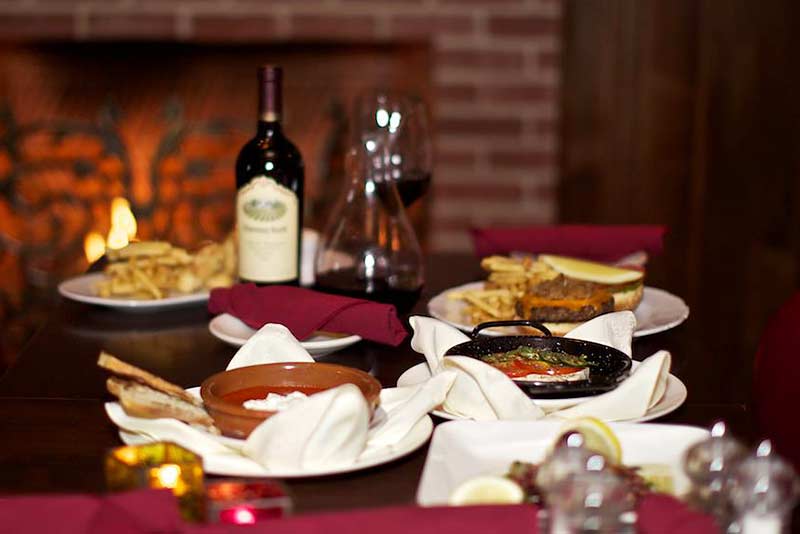 Hello and Happy New Year! I hope everyone had wonderful holidays and you are all hungry for some new episodes. This week we visit The English Room, Gundis Kurdish Kitchen in Lakeview, and L'Patron in Logan Square. The English Room is located in the historic Deer Path Inn in Lake Forest and boasts an award-winning wine list. This week, I get the scoop on the place from Liz Weeden from The English Room and Deer Path Inn.
Cat: The Deer Path Inn is a historic place. Can you tell us a bit about its history?
Weeden: Originally built as an estate on the site of a hunter's log cabin on a former Native American trail, Deer Path Inn first opened its doors as a hotel along Chicago's North Shore in 1929. Styled after a 15th century stucco manor house in Chiddingstone, Kent — one of the oldest villages in England — today our intimate, 57-room, Tudor-style Inn serves as an English-inspired respite for metropolitan city dwellers and welcomes guests with grand English traditions including traditional Afternoon Tea and four on-site dining venues serving classic English favorites.
Cat: What can diners expect at The English Room? What is the philosophy behind the menu?
Weeden: An experience that is equally refined as it is comfortable. The menu is simple in its preparation and plating; the ingredients are fresh and not fussy. Guests visiting the Inn often feel as if they have been transported to another time and place.
Cat: The English Room is known for its extensive wine list, what are some unique bottles from your cellar as well as some that are standout for a special occasion?
Weeden: One highlight includes the 1929 Laubade Armagnac brandy — it's inspired by the opening year for Deer Path Inn. As for bubbly, we have a very rare champagne: Krug, Clos du Mesnil, Brut, 2003 Reims, France. There are only 8,671 individually numbered bottles of 2003 available in the world and Deer Path Inn offers number #3334, #3256, #3249.
Stay tuned next week for three more great restaurants and some more inside dish right here on my blog!
Cheers!
Catherine
For an additional serving of inside dish, follow Catherine on Instagram @catdeorio and Twitter @CatCalls.