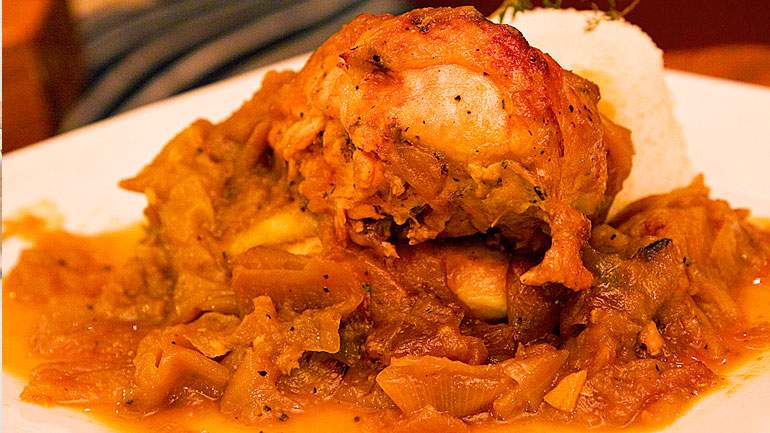 This Yassa Chicken is a tradition of Senegal. Most of our Soul-food preparation is like that of many ethnic traditions, characterized by what Mama Dip calls "dump cooking" – that is, cooking by feel, taste, and instinct rather than working from a set recipe.

Ingredients:
Whole Chicken, cut in half
1 lb Onions
5 tsp Lemon
2 tbsp Dijon Mustard
1 hot Chile pepper quartered
5 Tablespoons Oil
1 Garlic Clove
Salt, pepper, thyme and laurel leaves

Directions:
1. Cut chicken into pieces, lay in a glass dish.

2. In a bowl, make the marinade with half of the onions, the quartered chili pepper, chopped garlic clove, lemon juice, salt, pepper thyme and laurel leaves.

3. Pour half of the marinade over the chicken, refrigerate for one hour.

4. Remove the chicken from the glass dish, grill the chicken on a charcoal fire.

5. In a casserole dish, heat the oil and add half of the onions over the chicken until it is browned.

6. Add the water, and cook for 30 minutes.

7. Add in the rest of the marinade.

8. Serve hot with white rice on the side. Add-ons may include a mix of green peas and sliced carrots.