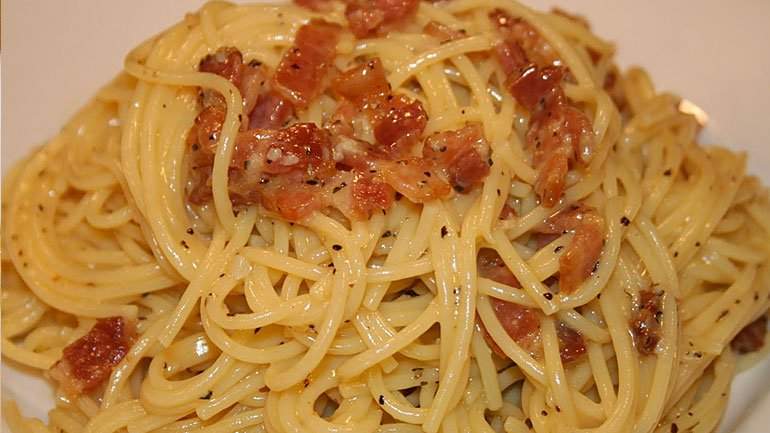 Ingredients:
2 tablespoons olive oil
3/4 LB bacon, chopped
½ cup yellow onion, chopped
12 oz spaghetti
3 extra large eggs
1 ¼ cup cream
¼ cup hand grated Parmesan or Romano cheese
additional grated cheese to serve on the side

Directions:
Heat oil in a heavy large skillet over medium heat. Add bacon and saute until just beginning to brown, about 4 minutes. Add onion and saute until onion is translucent, about 4 minutes. Drain off oil from skillet.

Cook spaghetti in a large pot of boiling, lightly salted water until tender. Drain well. Whisk eggs with cream and ¼ cup grated cheese in a large bowl. Add spaghetti and toss to coat. Transfer spaghetti mixture to the skillet with bacon and onion. Cook over low heat until mixture thickens and is heated through, stirring frequently; do not boil. Season with salt and pepper. Divide among plates. Serve, passing additional grated cheese.