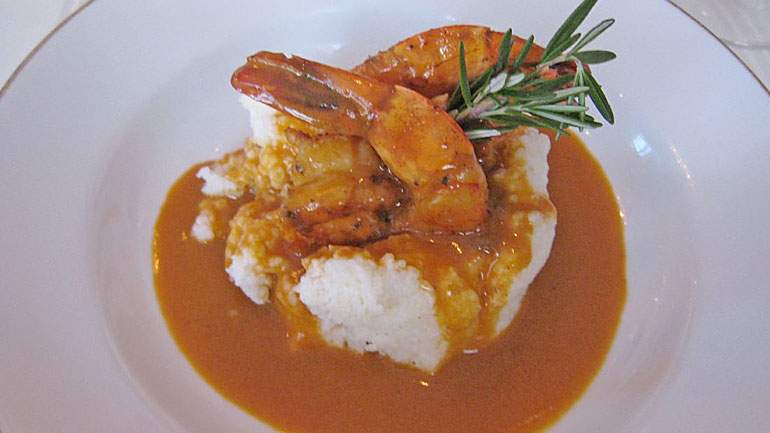 Ingredients for BBQ Shrimp:
4 shallots
1 cup shrimp shells
2 celery stalks, diced small
3 T butter
3 garlic cloves
1 c pepper mélange, red and green bell peppers
10oz chicken stock
8oz plum puree
1 c honey
1 parsley
1 c oregano, chopped
1c sherry
5 lb shrimp, peeled, de-veined and butterfly
Cayenne pepper to taste
Salt to taste

Directions:
Sauté shells in butter and celery and shallots and sweat until soft. Add garlic, pepper, and mélange and cook out. Add remaining ingredients except salt and pepper. Reduce to sauce consistency. Adjust seasonings. Strain and reserve. Sauté to order, 3 per order.

Ingredients for cheddar grits:
2qt water, salted to taste
12oz grits
6 oz butter
6 oz cheddar cheese
12 oz milk
4 each eggs, slightly beaten
2 cloves garlic, minced
1 t Tabasco
TT salt
1 t Worcestershire sauce

Ingredients for BBQ spice mixture:
2t cayenne pepper
1t salt

1t black pepper
1t white pepper
2t cumin
1t dry thyme
1t sugar
2t paprika
1t dry mustard
1t chili powder

Directions for dough:
Bring water to boil, stir in grits and simmer about 30 minutes or until thick and no lumps. Remove from heat and stir in butter and 10oz of cheese until melted. Combine milk, eggs, garlic, Tabasco and Worcestershire sauce. Add mixture to grits and season with salt. Pour into buttered ramekins and top with remaining cheese. Bake in 350 degree oven until firm, about 45 minutes to 1 hour.

Let stand 10 minutes before unmolding.