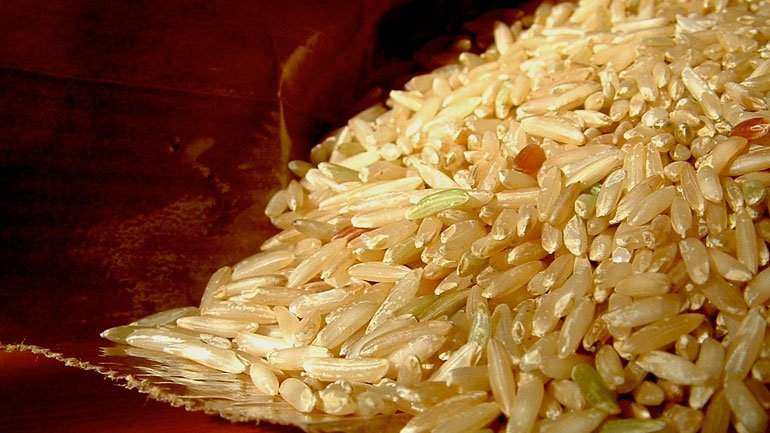 Ingredients:
2-3 C. Basmati rice
1 C. Tempeh
1 C. Tofu
1 C. Seitan
5 T. Olive oil
3 ears Corn
1 sm. Onion-diced large
4 Carrots
3 cloves Garlic-minced
1 t. Tumeric-OR-
½ t. Saffron
½ each Green and red peppers
1 sm. eachZucchini and yellow squash
1/3 C. Parsley-chopped
½ C. Green peas-optional
1 C. Artichokes-optional
2 ½ C. Vegetable stock, water or miso broth
2 med. Plum tomatoes
taste Cayenne or hot sauce
taste Tamari, salt and pepper

Marinade for tofu:
1T. Garlic powder
1T. Onion powder
1t. Tumeric
3 T. Tamari
2 ½ C. Water
2 T. Oil

Directions:
Mix all and toss over tofu, tempeh and seitan cubes. Bake on oiled cookie sheet at 350? for 15-20 minutes. Start with cutting tofu, tempeh and seitan and marinade for a least 15 minutes.

Bake at 350° F for 15-25 minutes on cookie sheet. Set aside.

Bring 1 ½ quarts of water to a boil, add corn pieces and cook 4-5 minutes. Set aside. In a large pot over med-high heat saute in olive oil carrots, onions, and garlic. Cook about another 5 minutes then add tumeric or saffron. Continue stirring and add vegetable broth or water, salt and pepper, cover and cook a few more minutes. Reduce heat. Add peppers, squash, tofu, tempeh and seitan.

Cook another 6-8 minutes, slowly adding tomatoes and cooked rice. Now you can add the can tomatoes. Gently stir in corn and top off with green peas. Serve on a large serving platter, and garnish with parsley.