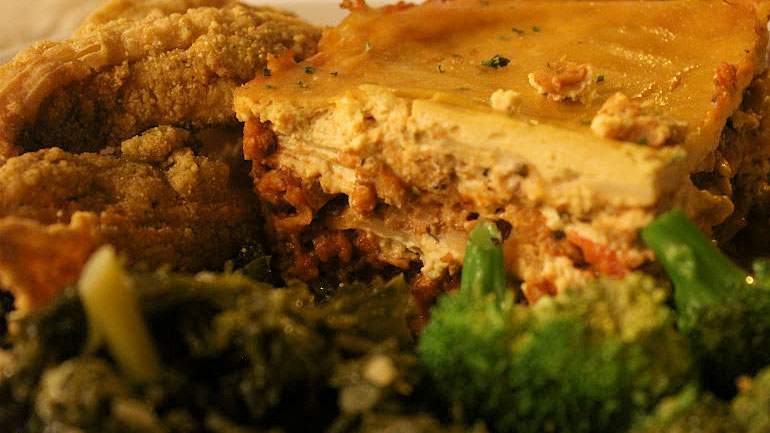 Ingredients:
1 (16-oz.) package of lasagna shells

For the Gluten Mixture:
2 lbs. ground gluten/seitan
2 Tbsp. vegetable oil
3 Tbsp. Vegesalt
1 Tbsp. caraway seeds
2 Tbsp. basil

For the Tomato Sauce:
1 cup water
1 cup tomato paste
1 Tbsp. basil
2 Tbsp. Vegesalt
2 Tbsp. nutritional yeast
2 Tbsp. vegetable oil

For the Soy Cheese:
3 cups soy milk
1 ½ cups nutritional yeast
1 Tbsp. paprika
1 Tbsp. garlic powder
1 Tbsp. Vegesalt
1 cup vegetable oil

Directions:
Cook the lasagna shells in boiling water until they are al dente. Drain.

Meanwhile, scramble the gluten with the vegetable oil, Vegesalt, caraway seeds, and basil. For the tomato sauce, combine the water, tomato paste, basil, Vegesalt, nutritional yeast, and vegetable oil in a saucepan and bring to a light boil.

For the soy cheese, combine the soy milk, nutritional yeast, paprika, garlic powder, and Vegesalt in a blender. While blending the soy-milk mixture, very, very slowly add the vegetable oil until the ?cheese? thickens.

Spread a layer of lasagna shells over the bottom of a baking pan. Add a layer of the gluten mixture, a layer of cheese sauce, and a layer of tomato sauce. Continue layering the ingredients in this order, ending with tomato sauce. Bake at 350° F for 30 to 35 minutes.