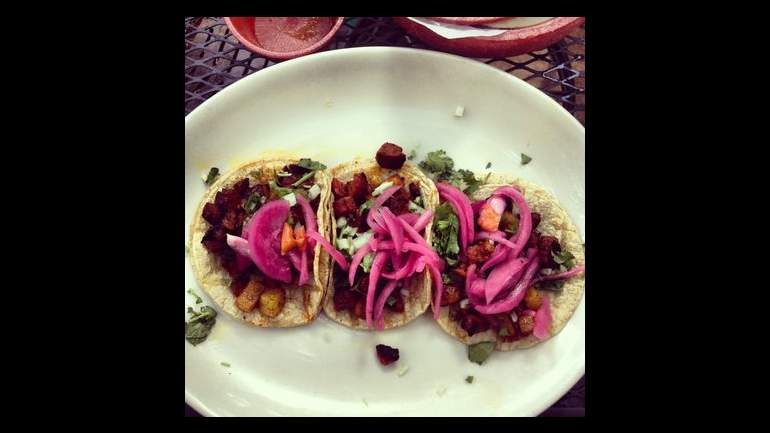 Chef: Rodrigo Cano
Serving 8 tacos
Tempura Batter:
2 cups all purpose flour
1 ½ tablespoons of salt
1 ½ tablespoons of baking powder
1 ½ tablespoons of chopped garlic
18 ounces of beer (Mexican beer)
Directions:
Mix all ingredients except beer. Once it is all well mixed, start incorporating the beer to form the batter.
Shrimp Tempura:
16 pieces of Shrimps, clean and deveined.
Directions:
Add shrimp to the batter.
Heat the fryer to 350 degrees Fahrenheit.
Slowly throw shrimp into the fryer until you get a nice golden color, and it's nice and crispy.
Salad:
½ of Napa cabbage (medium size) finely chopped
1 tablespoon chopped onion
1 tablespoon chopped cilantro
¾ ounce of Lime juice
Salt
Direction:
Mix all the ingredients in a bowl and add salt to taste.
Mango Salsa:
2 pieces of roasted chile serrano
2 cups of fresh mango
1 tablespoon of Lime juice
Honey to balance flavor
2 tablespoons of olive oil
Salt
Directions:
In a blender add all ingredients and while blending slowly add olive oil and add salt to taste. Use honey to balance the sweetness of the salsa to your taste.
Now let's assemble the tacos. Have 8 Tortillas, 16 tempura shrimp, ¼ quart Mango salsa and the Napa cabbage salad ready. On a flat pan, heat the tortillas and assemble the tacos. Add two shrimps per taco, salad on top, and finishing with the mango salsa.