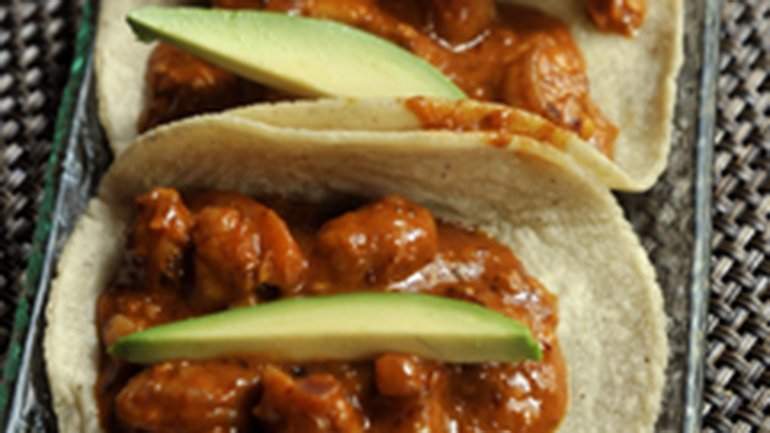 Chef: Patricio Sandoval
Serves 4 tacos
Ingredient List:
2 tablespoons blended oil
1 tablespoon garlic, chopped
3 tablespoons red onion, diced
5 ounces of marinated shrimp, roughly chopped (recipe follows)
2 tablespoons chipotle puree
2 teaspoons of lemon juice
2 tablespoons butter
Four, 6 inches corn tortillas
4 avocado slices
Directions:
Heat oil in a skillet. Lightly brown garlic then add red onion and sauté for 30 seconds. Add shrimp and let cook 1 minute. Add chipotle puree and lemon juice then stir in butter and salt to taste. Balance the sweetness, saltiness and the acidity. Place shrimp on tortillas and top with avocado slices, one slice per taco.
Shrimp Marinade:
½ cup chipotle puree
¼ cup roasted garlic puree (recipe follows)
Directions:
In bowl, mix chipotle and roasted garlic puree.
Mix in shrimp and marinade until ready to cook.
Roasted Garlic Puree:
½ cup garlic, peeled and whole
Oil, enough to cover garlic
Directions:
In a pot, put whole garlic and cover with oil about 2 inches above garlic.
Bring to a boil; reduce to a simmer stirring once in a while to make sure garlic does not stick.
When garlic turns brown, strain oil and reserve, put roasted garlic in blender until smooth, adding oil if needed to make a paste like mixture.
*If there is extra garlic puree left, it can be refrigerated for about 1 week.