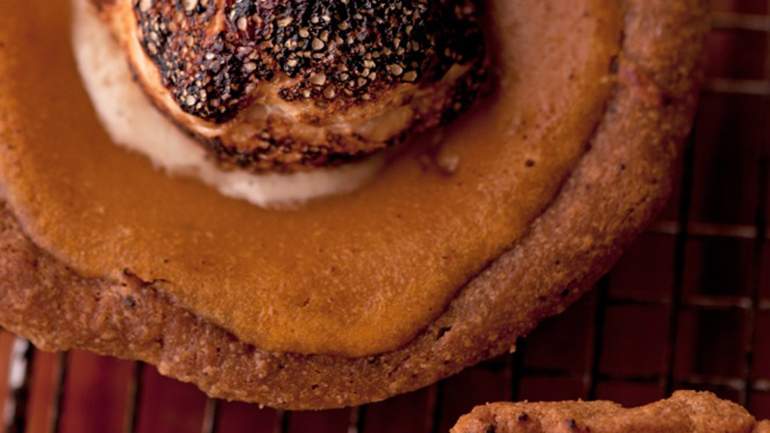 Chef: Mindy Segal
Serving 5-6 mini pies
Ingredient List:
2/3 cup of sweet potato puree
1 egg
1 yolk
1/3 of Cain sugar
Pinch of salt
¼ teaspoon of Vanilla
1 tablespoon of Maple syrup
¼ teaspoon or to taste Bourbon
2 tablespoons of melted butter
2 tablespoons of heavy cream
10 store-bought marshmallows
Directions:
Preheat the oven to 350 degrees Fahrenheit and roast the sweet potatoes until soft, approximately 45 minutes or until potato's natural sugars star to caramelize. Let it cool or warm. Remove the meat from skin and puree until smooth, let cool.
Combine yolk and whisk with Cain sugar.
Add salt, maple syrup, sweet potato bourbon to combine
Add melted brown butter and heavy cream to combine
Set aside to bake in pie shell
Gingersnap graham dough (1 pie shell)
1 pie shell
4 ounces of butter – room temp
2 ounces of light brown sugar
1 egg
1/3 cup of cake flour
1/3 cup of AP flour
¾ cup of graham crumb
½ teaspoon of vanilla extract
1 teaspoon of molasses
½ teaspoon of salt
1/8 teaspoon of cinnamon
1/8 teaspoon grated, fresh ginger
1/8 teaspoon of nutmeg
1/8 teaspoon of clove
Pinch of black pepper
Directions:
Cream the butter and sugar until light and fluffy. Scrape bowl, bring together. Add egg, vanilla, and molasses, mix to combine. Scrape bowl and bring together. Add flour, graham crumb, salt and spices, slowly bring together. Make sure dough is mixed thoroughly. Wrap in plastic wrap and refrigerate for at least 2 hours.
Stout butterscotch (¾ quart)
½ ounce of light brown sugar
½ ounce of dark brown sugar
½ ounce of butter
1 cup of heavy cream
Salt to taste
1 teaspoon of vanilla
1 cup of Moloko Stout
Directions:
Combine sugars, vanilla, butter, and stout. Melt them in a heavy duty saucepot until boiling, then add cream in 2 batches -- reducing for 1 min after each addition. Add salt to taste -- should taste slightly salty. Strain into a fine mesh strainer
Cranberry syrup
¾ cup of 1QF cranberry
1/3 cup of sugar
¼ cup of cranberry juice
¼ cup of orange juice
1 vanilla bean
Vanilla extract
Directions:
Combine all ingredients and bring to a boil. Turn down to a simmer and cook for two minutes. Let it sit for five minutes and then strain through a fine mesh strainer, let cool.
To make pie in preheated oven, spray 9" pie tin with vegetable oil spray line with dough by putting dough in evenly, freeze for about 10 minutes. Wrap pie tin with plastic wrap, leaving overhang and fill with beans, rice, or pie weights. Wrap overhang over pie weights. Bake until crust is completely but not brown for approximately 15 minutes. Take weights out, fill with sweet potato filling and bake until filling is set for approximately 10-15 minutes.
You can serve it cool with toasted mallows, warm stout butterscotch and cranberry syrup, to toast the mallows, turn oven up to broil, place mallows on top of pie, in broiler for about 30-60 seconds or until mallows look brown and toasted.