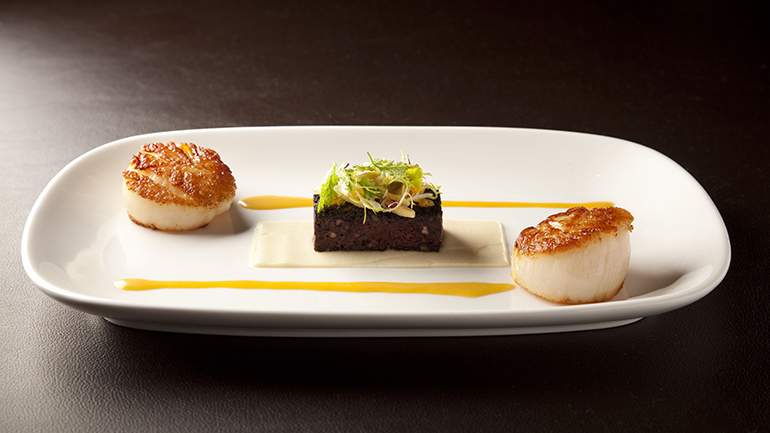 Chef: Andrew Zimmerman
Serving for 8 People
Ingredient List:
8 pieces of U-10 day boat scallops, cleaned
1 recipe celery root puree (recipe follows)
1 recipe Tangerine sauce (recipe follows)
1 recipe Tangerne vinaigrette (recipe follows)
1 recipe Black pudding (recipe follows)
1 recipe of Almond-Herb Salad (recipe follows)
Olive oil, salt and pepper as needed
Celery root puree:
1 large celery root, peeled and diced
¼ cup of cream
Pinch of xanthan gum
Salt and white pepper to taste
Directions:
Put the celery root in a sous-vide bag and cook at 90 degrees Celsius (194 degrees Fahrenheit) for about an hour OR until completely tender.
Open the bag and drain off any accumulated liquid. Put the celery root in a blender and puree with the cream, salt, white pepper and pinch of xanthan gum. Reserve warm.
Tangerine sauce:
3 cups of tangerine juice
½ cup of Fish Glace (or 2 ½ cups of fumet reduced to ½ cup)
¼ cup of Veal Demi
1 cup of heavy cream
Salt, pepper, lemon juice to taste
Directions:
Reduce the tangerine juice to 2/3 cup. Add Fish Glace and Veal Demi. Bring to a boil and add cream. Boil without stirring for about 10-15 minutes or until large bubbles begin to appear on the surface.
Season with salt, pepper, and lemon juice.
Strain and reserve warm.
Yield: about 1 ½ cup
Tangerine vinaigrette:
1 cup of freshly squeezed tangerine juice
3 tablespoons of Jean-Marc Mireille Citron Vinegar
¾ cup of Grapeseed oil (or vegetable oil)
2 tablespoons of extra virgin olive oil
Pinch of soy lethicin (optional)
Salt
Directions:
Reduce the tangerine juice by half. Cool the juice and put it in a blender with the vinegar, a pinch of salt and the pinch of lethicin. Blend to combine.
Add the grape seed oil in a thin stream until emulsified. Add the olive oil at the very end.
Taste…it might need a splash more vinegar or a pinch of salt…or even a drop of honey.
Or perhaps all three, this will depend on the flavor and quality of the tangerines you started with.
Almond-Herb Salad:
¼ cup of marcona almonds, lightly crushed
1 head of frisee, cleaned and shredded
¼ cup of celery leaves
¼ cup of chervil leaves
Zest of one tangerine
Direction:
Combine in a bowl and reserve.
Black Pudding:
1 tablespoon of lard or olive oil
1 cup of diced onion
3 cloves of garlic
2 tablespoons of port, sherry or maderia
¼ teaspoon of fennel seed
½ teaspoon of coriander seed
1 teaspoon of mustard seed
½ teaspoon of cumin seed
1 Bay leaf
½ teaspoon of crushed red pepper
¾ # Pork butt
¼ # Fat back
1 ½ cups of pork blood
¼ cup of each, cooked rice, pearl barley, and steel cut rolled oat
¼ cup of chopped parsley
½ teaspoon of each: chopped sage, thyme and oregano
¼ teaspoon of Allspice, ground
½ teaspoon of pate spice
½ teaspoon of ground black pepper
½ tablespoon of paprika
1 tablespoon of salt
1 egg
Directions:
Sweat the onions and garlic in lard for 5 minutes. Add port and cook for 10 minutes. Let it cool.
Toast the spices and grind.
Combine the pork, fat back and onion mix. Grind in a meat grinder with the ¼ inch plate.
Add blood, and everything else.
Mix and pour into loaf pans. Wrap with foil. Bake water bath at a 325 degrees Fahrenheit for about 1 ½ hours or until an internal temperature of 160 degrees Fahrenheit is reached. Cool over night.
Cut the black pudding intro rectangular blocks about ¾ of an inch by 3 inches. Reserve
To finish the dish:
Season the scallops with salt and pepper and sear them in a hot pan. Cook them to medium or medium rare. Sear the black pudding in a pan and heat it through.
Toss the ingredients of the herb salad in a bowl with a few teaspoons of tangerine vinaigrette. Season it with salt and pepper.
On a plate, put down some of the WARM celery root puree and top with a piece of the black pudding.
Place a seared scallop next to the black pudding. Top the black pudding with a small tangle of the almond-herb salad. Spoon some of the tangerine sauce around.