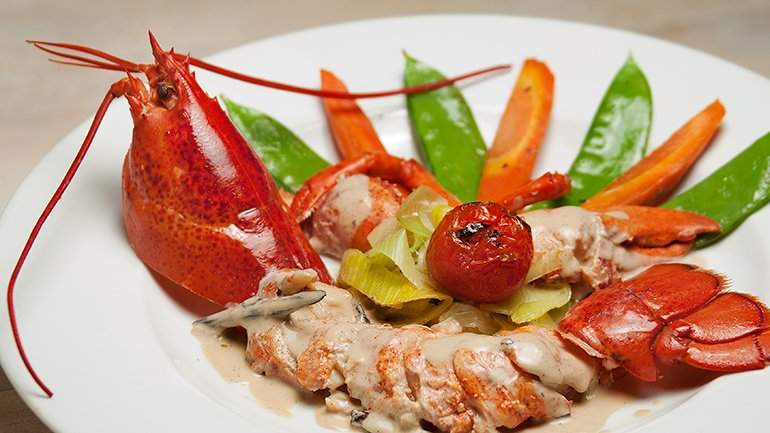 Chef: Thierry Lefeuvre
Ingredient List:
Four 1¼ pounds of fresh Maine Lobster
2 ounces of grape seed oil
3 shallots (sliced)
1 vanilla bean (split in two)
3 ounces of vanilla extract
6 ounces of Riesling wine, tomalley (from the lobster)
6 ounces of whipping cream, salt, and pepper
1 leek (cleaned and chopped)
4 ounces of water
1 ounce of butter, salt, and pepper
8 ounces of whipping cream
Directions:
Bring a pot of salted water to a boil and then slide the lobster in the boiling water for about 7- 8 minutes. Remove the lobster from the water and let it cool. Remove the lobster meat from the shell and reserve the lobster's head, tail and claws for decorations.
In a sauce pan, pour the grape seed oil and sauté the shallots with a split vanilla bean. When blond color, deglaze with 3 ounces of vanilla extract. Once it's reduced, add the Riesling wine and wait until the Riesling reduce, and then add the tomalley and bring to a boil. Add the whipping cream. Once reduced, add salt and pepper to taste. Leave on side until serving time.
In a sauté pan, steamed the leek cleaned and chopped with salt pepper and 1 ounce of butter, bring to a boil for few minutes and take the water out and add the cream.
Warm-up the lobster gently in the vanilla sauce and served on the bed of hot leek.