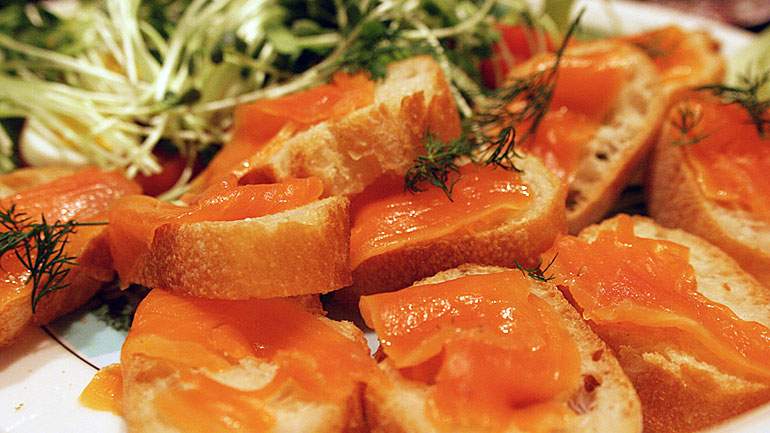 Ingredients:
1/3 cup sugar
¼ cup kosher salt
1 tablespoon fresh-ground pepper
2 1 lb. Fresh Salmon fillets, boneless
1 tablespoon aquavit, vodka or brandy
1 bunch fresh dill sprigs

When serving: ¼ cup finely chopped fresh dill, gravlax sauce, and lemon slices to garnish.

Directions:
In a small bowl, mix together the 1st three ingredients. Set aside. In a casserole dish, place the salmon fillets side-by-side, skin side down. Drizzle the aquavit over the salmon and then heavily coat the fillets with the salt/sugar mixture. Cover 1 fillet with dill sprigs and then flip the 2nd fillet over and on top of the first. Cover the fillets with plastic wrap and weigh them down. Place in fridge for 48 hours, turning the fillets over every 12 hours.

To serve: Remove the fish from the casserole dish and place on a cutting board, skin side down. Discard the dill sprigs and sprinkle some chopped dill over the fish. Thinly slice the salmon and arrange on a serving platter. Garnish with lemon and serve with a ramekin of gravlax sauce and cocktail rye bread.

Gravlax Sauce Ingredients:
1 Tablespoon white wine vinegar
1 Tablespoon sugar
3 Tablespoons Swedish mustard (Dijon can be substituted)
1 egg yolk
¼ cup olive oil
2 Tablespoons chopped fresh dill
salt and pepper

Gravlax Sauce Directions:
In a bowl, mix together the 1st 4 ingredients. Slowly whisk in the olive oil and then the dill. Salt and pepper to taste. Refrigerate.