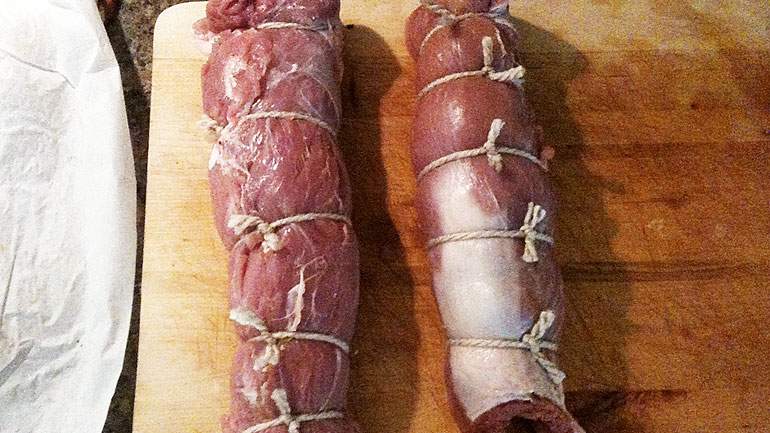 Ingredients:
2 T olive oil
1 medium onion diced
1 medium carrot diced
1 celery stalk diced
2 bay leaves
Black peppercorns
1 pork tenderloin cleaned, butterflied and pounded to ¼" thickness
salt and pepper
1 T fresh rosemary chopped
1T chopped fennel seeds
4 oz gorgonzola sliced into strips
8 dried Calimyrna figs flattened
1 cup white wine

Directions:
Butterfly pork loin and pound to ¼' thickness. flatten figs by cutting in an X on bottom. Season meat with salt and pepper and sprinkle with rosemary and fennel line gorg and proscuitto and figs in center. Roll with twine put a rosemary stem in twine. Heat pan and oil. Sauté veg, brown all side of meat, deglase. Finish in oven 350 until meat registers 155, about 15 min. Serve with roasted potatoes with red pepper puree.

Red Pepper Puree Ingredients:
1 red bell pepper
butter
capers
anchovies
parsley

Directions:
Roast pepper, combine and puree.