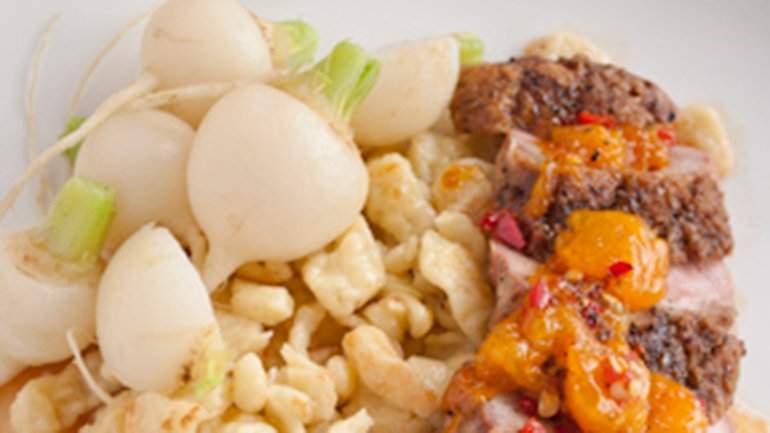 Chef: Victor Morenz
Serving for 2 People
Ingredient List:
Two 7-8 ounces duck breasts
Buttered Turnips
2 bunches (7-8) of baby turnips
3 tablespoons of unsalted butter
¼ cup of water
Salt and pepper
Directions:
Remove stems from baby turnips and wash under cold water. Cut in half and place in a pot just large enough to hold the turnips snugly. Add butter, water, and salt and pepper to the pot and bring to a boil; cover and reduce to a simmer until tender, about ten minutes.
Spaetzle
3 cups of all-purpose flour
4 eggs
1 cup of whole milk
¼ teaspoon of nutmeg
Salt and pepper
Oil for pan frying
Directions:
Place flour in a mixing bowl. In a separate bowl, combine eggs and milk and whisk until smooth; whisk egg mixture in to the flour, adding the nutmeg and seasoning with salt and pepper. Beat the batter with a whisk until it is smooth and elastic, about 3 minutes. Place a large pot of salted water on the stove and bring to a boil. Using a spaetzle screen (an ingenious and cheap device available at most kitchen goods stores) or a colander, push batter through holes and into boiling water in two batches. Let your noodles float for about 40 seconds, then remove to a cookie sheet to cool using a slotted spoon or strainer. Toss in vegetable oil to prevent sticking.
Squash Puree
2 medium sized acorn squash
4 tablespoon of unsalted butter
¼ cup brown sugar
Salt and pepper
Directions:
Cut acorn squash in half from root to stem; remove seeds. Place squash on a cookie sheet and distribute remaining ingredients evenly into the cavities, seasoning with salt and pepper. Bake until fork tender, about an hour; let cool. Using a spoon, remove the flesh of the squash into a food processor, discarding the skin. Puree until smooth, adding water if necessary. Season with salt and pepper.
Pan Sauce
1 navel orange, peeled and segmented
2 fluid ounces of real maple syrup
1 tablespoon of chopped Fresno or jalapeno chilies
Directions:
Now, we will bring everything together. First, preheat oven to 400 degrees Fahrenheit. Score the fat on the duck breast several times, being careful not to cut the flesh. Season with salt and pepper and place in cold sauté pan on stove. Turn heat on very low, rendering the fat from the duck breasts, about ten minutes; place in oven for 8 minutes, turning halfway. Meanwhile, fry spaetzle in a nonstick pan until golden brown, adding your buttered turnips at the end. Remove the duck from the oven and let rest on a plate. Pour excess fat from the duck pan and sauté chilies until soft, crush orange segments into the pan to deglaze and let reduce one minute, add maple syrup and heat until sauce is glossy and viscous. Smear squash puree on plates and top with turnips and spaetzle, and sliced duck breasts. Pour sauce over the top and enjoy!