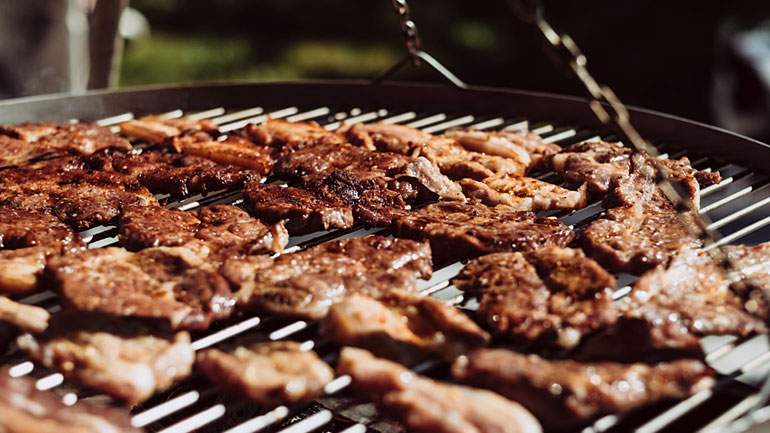 Chef: Adan Moreno
Pork Tenderloin:
6 ounces of pork tenderloins (per serving)
olive oil
salt
black pepper
cumin
Directions:
Cut tenderloins into even 2 ounces medallions. Marinate with olive oil, black pepper, salt and a dash of cumin to taste. Grill over medium heat till both sides are evenly cooked.
Spanish White Rice:
1 cup of long grain rice
3 cups of water
1 ounce of onions
2 garlic cloves, peeled
Directions:
In small saucepan or microwave oven, heat water till steaming. Cover and keep warm. In medium (3-quarts) saucepan with a tight-fitting lid, heat the oil over medium heat. When hot, add raw rice and onion and stir regularly until grains have turned from translucent to milky-white, 4-5 minutes. Add garlic and stir for a few seconds, until fragrant. Do not let grains brown. Add the water, stir thoroughly, scraping down any grains that are clinging to the side of the pan. Cover and cook over the lowest heat for 15 minutes--temperature should be low enough that only the slightest hint of steam escapes lid. Remove pan from heat and let stand covered for 5 minutes. Uncover and test a grain of rice: if still a little hard, re-cover pan and set over low heat for about 5 minutes; if rice has absorbed all liquid and is completely dry, sprinkle on 2 tablespoons water before returning to heat. When rice is done gently fluff with fork to release steam and stop the cooking.
Pico de Gallo:
(to garnish)
1ounce of diced tomato
1 ounce of diced jalapeno
1 ounce of diced onions
1 ounce of diced cilantro
½ of lime
*Stir all ingredients into a bowl and set aside.