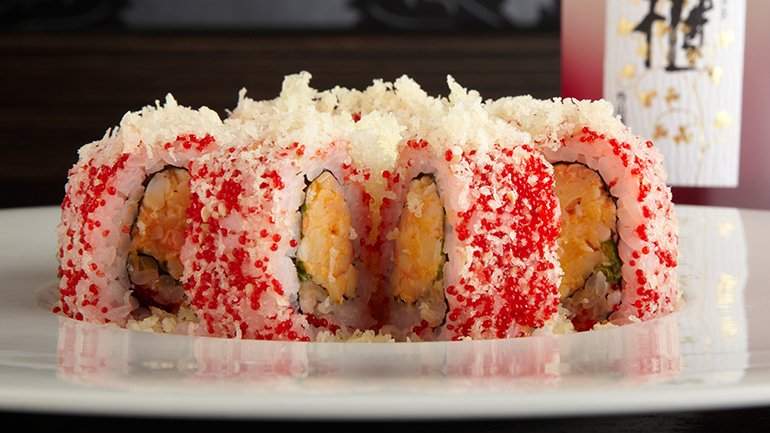 Chef: Ake (Nuttawut Chaowsaowapa)
Serving for 1 Person
Ingredient List:
5 ounces king crab legs, shelled and shredded
1 teaspoon mayonnaise
1 teaspoon Sriracha hot sauce
1 teaspoon scallions, sliced
2 tablespoon of red tobiko
White sesame seeds
1 sheet of nori seaweed cut in half
1/3 cup of sushi rice, cooled
Tempura crumbs
1 bamboo sushi mat
Clear plastic wrap
Optional Condiments:
Soy sauce
Wasabi
Pickled ginger (gari)
Directions:
Mix mayonnaise and Sriracha together to make a spicy mayonnaise. Combine with the king crab and set aside.
Wrap the bamboo mat with clear plastic wrap to prevent rice from sticking to the mat.
Place a half sheet of nori seaweed on the mat with the shiny side facing down.
Gently spread the sushi rice over the nori, about 1 centimeter high.
Sprinkle 1/8 teaspoon of white sesame seeds and 2 tablespoons of the red tobiko on top of the rice, distributing evenly.
Flip the nori over so that the rice now faces downward.
In the center of the nori, line up the king crab mixture and scallions horizontally along the nori.
Using the bamboo mat and starting from the bottom, roll the nori along with the ingredients.
Cut into 8 equal pieces. Sprinkle tempura crumbs on top.
Best served with soy sauce, pickled ginger and wasabi. Enjoy!