View all Recipes
Beef Stroganoff (Zhivago)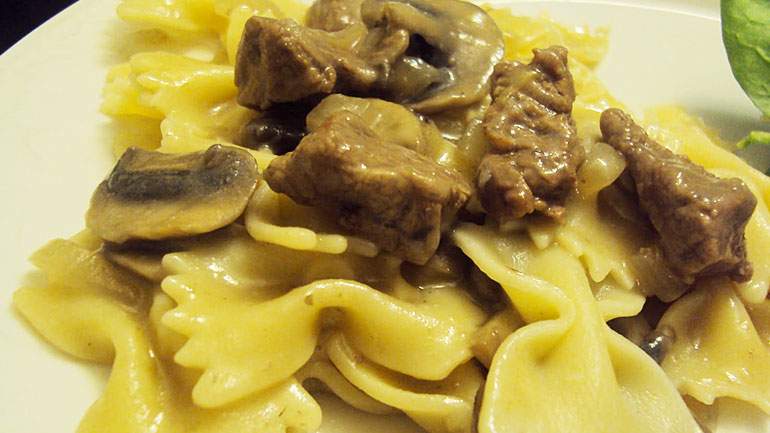 Ingredients:
1 quart water
1 lb buckwheat
3 tablespoons butter
1 lb beef tenderloin, julienned
2 Spanish onions, peeled and julienned
1 tablespoon flour
1 lb Portabella mushrooms, julienned
1 cup chicken stock (homemade or prepared)
½ cup heavy cream
1 clove garlic, peeled and chopped
2 tablespoons sour cream
½ lb bowtie pasta
Salt and pepper (to taste)
Parsley (to garnish)

Directions:
Buckwheat – Bring water to a boil. Add buckwheat, 1 tablespoon butter and salt to taste. Bring back to a boil with buckwheat and then reduce heat to low for 30 minutes.

Stroganoff – Heat 1 tablespoon butter over medium high heat. Add beef and onions; sauté until onions become golden in color. Add another tablespoon butter and flour; sauté for 2-3 minutes. Add Portabella mushrooms; sauté 2-3 minutes. Add chicken stock and cook 7-8 minutes until beef is tender. Add heavy cream and cook an additional 7-10 minutes. Add garlic, and salt and pepper to taste. Remove from heat. Add sour cream; stir; keep warm.

Bowtie Pasta – Boil 2 quarts of water, seasoned with salt. Add pasta; cook until soft and strain.

Finishing – Combine buckwheat and pasta. Place on platter, pour stroganoff over and garnish with parsley.