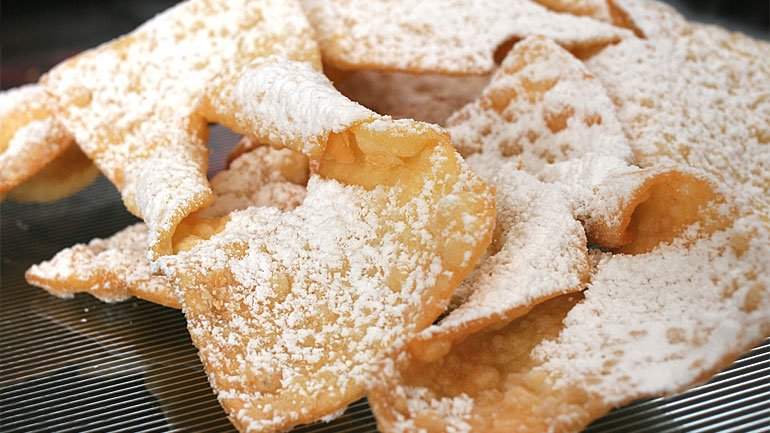 These fried dough treats are called crullers in Polish bakeries and sometimes also "bow ties." The name gruzdis, as far as we know, is not translatable.

Ingredients:
3 egg yolks
3 T. sugar
5 T. sour cream
1 T. rum or brandy
¼ tsp. vanilla
¼ tsp. almond extract
¼ tsp. salt
2-¼ C. flour, sifted

Directions:
Beat the yolks until light. (I use a stand mixer.) Add the sugar gradually and continue beating. Add the sour cream, rum, vanilla, almond extract, and salt; mix well. Add the flour a little at a time until a ball of dough forms. (You may not need all of the flour.) Knead by machine or on a floured board until the dough is no longer sticky when cut. Divide the dough into two or three balls, wrap in plastic, and let rest at least 10 minutes.

Heat oil for deep frying to 375° F. Roll out the dough paper thin on a floured board. (Aunt Emily never did this, but the easiest way to get paper-thin dough is to run the pieces of dough through a pasta machine just as you would pasta dough. Start with a setting of 1 and end with 5.) Cut into 3-inch by 1-inch strips. Cut a slit in the middle of each strip and bring one end through the slit. Deep-fry a few at a time for about 3 minutes on each side. Drain on paper towels. Sprinkle with powdered sugar before serving. Makes about 3 dozen gruzdis.