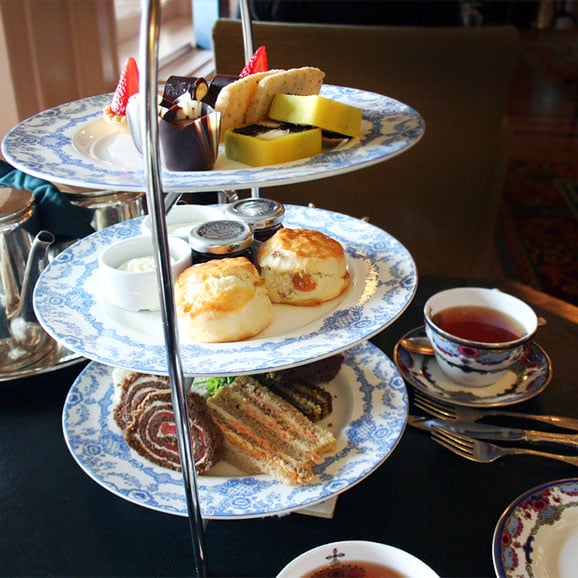 Afternoon tea
You certainly don't have to be British to like the idea of afternoon tea. What's not to like about an afternoon snack of finger sandwiches, scones with jam or lemon curd and Devonshire cream, small cakes and cookies, and a pot of freshly brewed tea? Perhaps enjoyed with gossipy friends in an elegant hotel lobby or upscale restaurant? Just the sight of that three-tiered display of mouthwatering goodies makes it easy to imagine yourself trading witty bon mots in the library on Downton Abbey, or as a character in a Jane Austen novel or a Merchant-Ivory film.
Historic UK tells us that the English custom of afternoon tea originated with "Anna, the seventh Duchess of Bedford, in the year 1840." Noting that there was a long stretch between luncheon and a dinner that was customarily served at eight in the evening, Anna started requesting "a tray of tea, bread and butter (some time earlier, the Earl of Sandwich had had the idea of putting a filling between two slices of bread), and cake be brought to her room during the late afternoon." Eventually, she hit on the idea of inviting friends over to join her, and this quickly became a popular social event, complete with fabulous hats.
Afternoon tea is composed of three "courses" that correspond to the traditional three-tiered plate stand that is brought to the table: The bottom tier is devoted to small sandwiches – these can be almost anything, but cucumber sandwiches (with the crusts removed, of course) and cream cheese pinwheels are standard. The other fillings can range from egg or tuna salad, to ham, salmon, and roast beef, perhaps with horseradish or chutney. The middle tier is for the scones, jam or curd, and Devonshire or clotted cream (more about these below); and the top tier is for the sweets: small slices of cake or petit fours, and cookies – perhaps colorful macaroons. What is included in an afternoon tea service can vary by culture; for instance, Russian Tea Time in Chicago's Loop also serves hot blintzes.
By the way, there are a couple of other popular varieties of tea service in addition to afternoon tea:
"High tea" (the term seems interchangeable with "afternoon tea" in the U.S.) bears a close relationship to a working class supper in America — a substantial meal with meat, bread, cheese, and vegetables, probably washed down with tea, served at a "high" table, as opposed to the low (coffee) tables used for "afternoon tea."
"Cream tea" or "Devonshire tea," which appears to have originated in the English county of Devon, is confined to scones, jam or curd, and Devonshire (or clotted) cream, plus tea. A freshly baked scone is split and spread with the Devonshire cream (the consistency of firm sour cream, but neither sour nor sweet), then topped with the jam (strawberry is preferred) or lemon curd, a delicious and highly fattening mixture of sugar, butter, eggs, lemon juice, and lemon zest.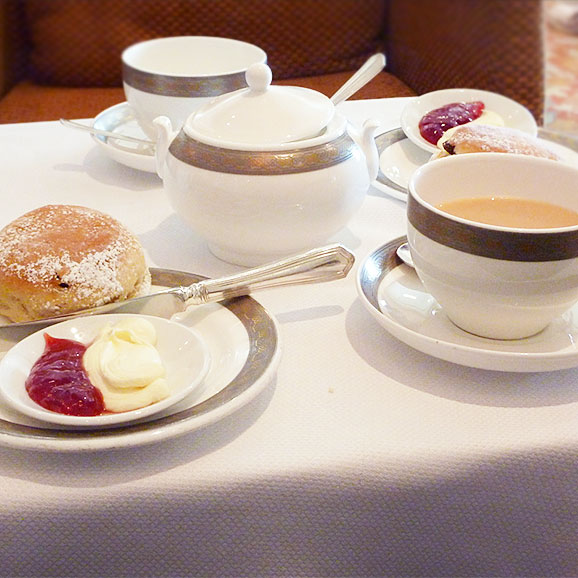 Cream tea
(You may have heard the phrase "tea and crumpets." Crumpets are similar to English muffins, but with a spongy texture, and they are no substitute for scones in this situation. Best save them for breakfast!)
What about the beverage itself? It's evident that tea originated in China, but from there, the facts are murky. The most popular story, from more than 2,000 years B.C., involves a Chinese emperor, wind, and a tree. Shen Nung, who reputedly was also a noted herbalist, was relaxing under a Camellia tree one day as his servant heated water for drinking. A breeze blew some of the tree's leaves into the boiling water, creating an interesting-looking infusion, and Shen Nung gamely decided to try it. The resulting tea was consumed for centuries in Asia before it made its way to the rest of the world; it did not become popular in Great Britain until the mid- to late-1600s, when it caught on fast and has remained a mainstay to this day. Tea is now believed to be the most consumed beverage in the world, next to water.
The main categories of tea readily available today are black, green, oolong, and white. But there are thousands of varieties – some very rare and quite expensive, as tea expert Rodrick Marcus explains on Chat, Please! Mr. Marcus also shares his views on loose tea versus tea bags (and comes down heavily on one side).
Afternoon tea is a trip back in time, and across the pond. Almost any upscale hotel offers their version of it, and it's a great way to spend a relaxing afternoon. Try it!