What to Drink for Thanksgiving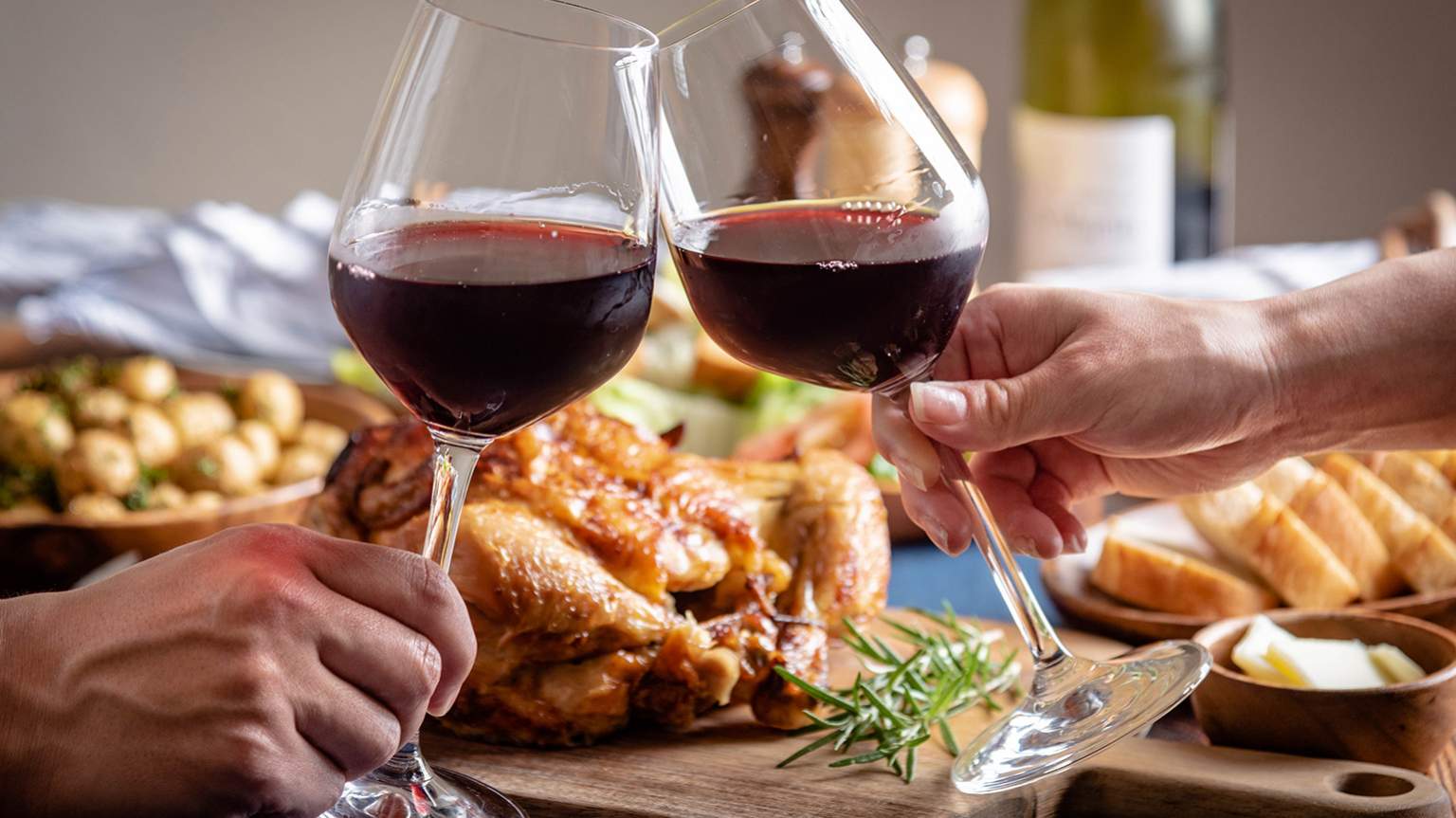 In today's busy world, getting ready for Thanksgiving dinner can be stressful, but the choice of which wine to serve with your holiday meal shouldn't be. Classic offerings such as turkey, stuffing, gravy, cranberry sauce, and sweet potatoes can run the gamut in flavors from sweet to savory, which means there is no one perfect wine that will pair with everything on the table. My advice is to pair the wines to the personal tastes of your friends and family, and to keep the following guidelines in mind.
How much to buy: Plan on 2‐3 glasses of wine per person. Each bottle yields approximately five glasses. Be sure to have something on hand for non‐drinkers too.
How much to spend: $10‐20 per bottle is a good range. Anything more expensive is bound to get lost in the conversation and distractions of the day. Save the pricier bottles for smaller gatherings where your guests can focus on the wine.
What to buy: Plan on serving a white, red, and perhaps a sparkling wine. Lighter, fruitier whites such as Sauvignon Blanc, Chenin Blanc, and Riesling work well with savory and sweet dishes. For red wines, I recommend styles that are in lighter in tannins and bright on cranberry and red cherry fruit notes: Pinot Noir, Gamay, Sangiovese, and Beaujolais are all good choices. For sparkling wine, consider options beyond the borders of Champagne for bargains: Cremant d'Alsace, Spanish Cava, and Italian Franciacorta.
For special guests: If you know someone in your family prefers sweeter wines, an oaky Chardonnay, or a big, rich Cabernet Sauvignon, then by all means, be sure to have something on hand that will please their palate.
If you're a guest: Unless you're told otherwise, general etiquette dictates that, if you bring a bottle to a party, there is no guarantee that it will get opened during the party. When in doubt, go with sparkling wine – it's a failsafe gift. Another option is to share a wine that is personal to you. Include a card with a story of how you discovered it and why you thought your host would enjoy it.
Set up a wine tasting: A really fun thing to do is to purchase a variety of wines and set them up on a side table or credenza. Include a mix of white, red, sweet, dry, light, and heavy, and have your guests select the wine that suits them best.
Best place to buy wine: A wine shop is always the best place to purchase wine. You get an expert opinion, and the staff is always more than ready to help you. If you don't have the time to make a special trip to a wine shop, then don't worry; luckily, many grocery stores today carry a decent selection of wines to choose from.
I'm hopeful these tips will relieve some of the stress of finding the perfect wines to serve to your friends and family. I wish you a wonderful and happy Thanksgiving.