TV Dinners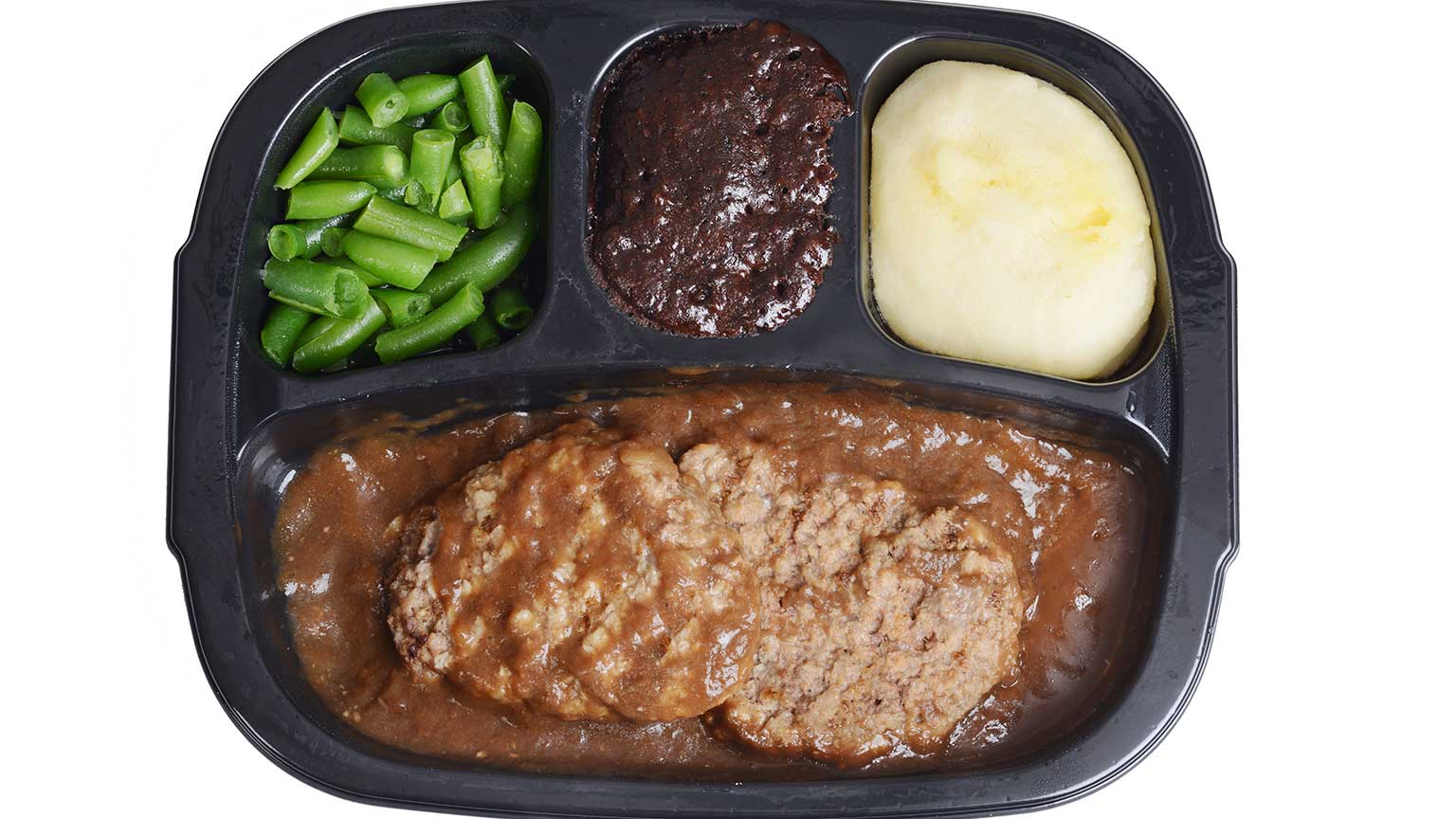 "I'm late…but dinner won't be!"
— Stylish wife in a Swanson TV Dinner ad, 1950s
"A World Away from the Everyday"
— Swanson ad promoting international meals, 1980s
"Necessity is the mother of invention." This iconic quote certainly applies to the creation of TV dinner, that miraculous heat-and-serve innovation beloved of busy parents, single people, and non-cooks everywhere that is celebrated with National TV Dinner Day in the coming week.
It's 1953. Thanksgiving is over, and you are a panicked food company executive who miscalculated your customers' taste for turkey, leaving you with two hundred and sixty tons of frozen birds sitting in ten refrigerated railroad cars somewhere between Nebraska and New Jersey. You don't want to just discard them and take the financial loss, so what do you do?
Well, if you're Gerry Thomas, salesman for C.A. Swanson & Sons and frequent air traveler, you suddenly recall the sectioned aluminum trays on which flight attendants served up your airline food. Thomas ordered a quantity of these trays, dipped into his other product stores for a menu of sweet potatoes, cornbread stuffing, and peas, and utilized an assembly line of women to fill the trays with scoops of precise portions of these along with turkey slices and gravy. He then froze the whole lot and covered each tray with foil. But how to market it to the public?
Note: this might be the moment to mention that these were not the first frozen meals ever. In the mid-1940s, a company called Maxson Food Systems had manufactured "Strato-Plates" for military and civilian aircraft; unfortunately for Maxson, their founder died before the company could introduce them to the mainstream retail market. Another company introduced "Fridgi-Dinners," sold only in taverns and bars, and yet another frozen meal under the One-Eyed Eskimo label was available only in the Pittsburgh area. Whenever consumers did get to try these dinners, the response was enthusiastic – but they didn't catch on nationally. Fortunately for Mr. Thomas and his colleagues at Swanson, a new form of home entertainment was arriving in homes: television.
Families who had been accustomed to rehashing their days around the dinner table now rushed through the meal to get to the main event – I Love Lucy or Your Show of Shows or the comedy stylings of Uncle Miltie and Jack Benny – and Swanson was ready with the "TV dinner." Moms were happy to be given an occasional reprieve from home cooking (and doing the dishes!) – along with the ability to serve each family member their own individual choice. Initially, the dinners sold for the princely sum of 89 cents each, a bit of a splurge in 1954 (at that price, today each dinner would cost just over eight dollars). Despite that, TV dinners were a clear success – in the year after they came on the market, Swanson sold 25 million of them.
From this lifestyle change, it was only a short jump to the folding TV tray. By the late 1950s, a set of these, standing upright in a rack, could be found in almost every American home.
With the birth of the microwave, which doesn't accommodate aluminum, TV dinner trays had to adapt accordingly, and were made from other materials such as plastic or cardboard. The original trays had three compartments; in the early 60s, a small dessert section was added.
A few quick facts:
The original TV dinner box was designed to look like a television set, with knobs and dials.
TV dinner inventor Gerry Thomas knew he would always be associated with the product he created: late in his life, Thomas's email address included "OriginalTVDinner."
The folding TV tray, surprisingly, was invented a year before the TV dinner. No word on their initial purpose.
The average American consumes 72 frozen dinners annually, and today, they are popular as a late-night snack.
In 2008, New York's Loews Regency Hotel offered a $30 TV dinner. According to the New York Times, "the partitioned trays, instead of aluminum or plastic, are made of porcelain. The fried chicken is 'free range.' The cheese in the mac 'n' cheese is cheddar asiago with a Parmesan crust. And the pot roast is braised in Burgundian pinot noir." (What, no brownie?)
Roast turkey with stuffing is still the most popular TV dinner variety, and not just on Thanksgiving.
The "TV dinner" name was phased out by Swanson in 1962.
You can see one of the original aluminum TV dinner trays at the Smithsonian.
Many of us have fond childhood memories of the TV dinner. What's yours?