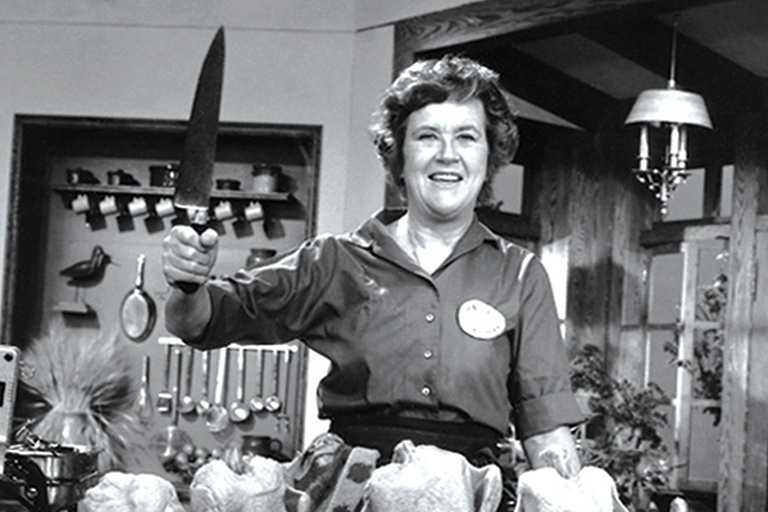 "I was 32 when I started cooking; up until then, I just ate."
– Julia Child
In honor of the premiere tonight of WTTW's new cooking collaboration series DISHALICIOUS, from the creators of CHECK, PLEASE!, let's look back at some of television's intrepid (and unique) culinary trailblazers.
Celebrity chefs have been on the scene for centuries, of course. Before mass media came along, their notoriety generally resulted from a) serving as a personal chef to a very prominent person, and/or b) authoring a widely distributed cookbook. Later came a third promotional outlet: c) having their name on a branded food product. But nothing guaranteed instant fame quite like popping into ordinary peoples' homes at the turn of a dial.
The world's first TV chef, Philip Harben, was not a chef in the traditional sense at all, but a London restaurateur who initially dispensed cooking advice on BBC radio. In June 1946, BBC television introduced a 10-minute television program hosted by Harben called Cookery (the first dish ever demonstrated on TV: lobster vol-au-vents). Notably, he helped British home cooks coping with World War II food rationing create palatable meals for their families. (He sometimes used his own personal rations while cooking on air.) Bearded, stocky, and garbed in his signature black and white striped apron, the ebullient Harben considered himself an ambassador for English cooking, and his book, The Grammar of Cookery, was a kitchen staple.
The following year, home economist Marguerite Patten began demonstrating recipes for a cooking segment on the BBC program Designed for Women, making her the first female chef on television. She later teamed up with Harben for a cooking series.
The next big British cooking star was, in the parlance of the day, a kook: Fanny Cradock, a flamboyant, four times-married (two of them bigamously), self-professed psychic. She had been scraping by as a door-to-door housewares salesperson when she had a sudden revelation: in a previous life, she had been a chef. She "relearned" to cook in restaurant kitchens and became famous for her outlandish dinner parties, which featured color-coordinated food (she once dyed a platter of scalloped potatoes lime green to match the linens). By the mid-1950s, her Daily Telegraph food column, "Bon Viveur," had morphed into a spinoff TV series, Chez Bon Viveur. Her unlikely career continued for two decades, and she may have been the first celebrity chef to have a TV drama made about her life.
Meanwhile, the TV cooking show had arrived on this side of the pond, with a series hosted by a chef with a familiar name: James Beard. His 15-minute live Friday-evening program was called I Love to Eat. Sadly, no tape of it exists, but it was probably great. Beard, considered "the quintessential American cook" by his colleagues, later wrote many cookbooks and endorsed numerous products, and his eponymous foundation still champions aspiring chefs and their cuisine.
Shortly after Beard got his start, New York restaurateur (and British native) Dione Lucas – the first woman to graduate from Le Cordon Bleu – made her debut on a new French cooking series, To the Queen's Taste. In a memorable moment during one of her live shows, Lucas's chocolate soufflé collapsed into a gelatinous mess – a technician had accidentally unplugged her oven.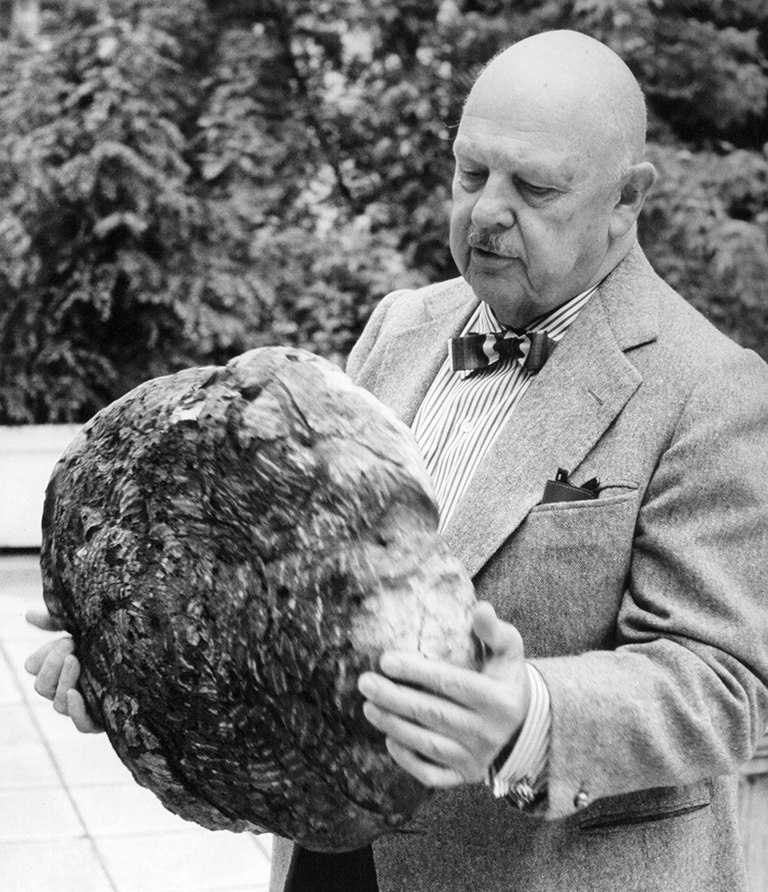 James Beard with giant bread
In 1963, a beloved TV icon arrived on the scene: Julia Child. While guesting on a Boston talk show promoting her seminal cookbook Mastering the Art of French Cooking, she was asked to demonstrate making an omelet. On the strength of that performance, Child was offered her own series…and The French Chef was born. Upbeat, unpretentious, and eminently relatable, she endeared herself to would-be cooks watching at home by insisting that any mistakes she made – and there were plenty! – must be left in the final program. Many subsequent cookbooks and television series followed, including several collaborations with a true French chef, Jacques Pépin.
While Julia Child reigned as the queen of the culinary airwaves in America, in Canada another chef was making his own waves: the exuberant Graham Kerr, who in 1969 made his TV debut as The Galloping Gourmet. The name came from a whirlwind global tour Kerr had undertaken for a book on the world's finest restaurants. Flirtatious and irreverent, the debonair Kerr was notable for his liberal use of cream, butter, and fat in his dishes as he allegedly consumed copious amounts of wine on camera. His shows always ended with an (almost always female) audience member joining him on set to savor the finished meal. Culinary elites mostly looked down on Kerr; one prominent food writer dismissed him as "the Liberace of the food world." Later, while coping with serious health problems, Kerr became a born-again Christian and embraced healthier eating.
Today's TV chefs – among them Rick Bayless, Nigella Lawson, Bobby Flay, Jamie Oliver, Rachael Ray, Ming Tsai, Gordon Ramsey, and many others – owe a debt of gratitude to these early television pioneers. They freely shared their expertise with audiences, often performing live without a net, fostering the belief that anyone can be a gourmet cook…if they dare to try.