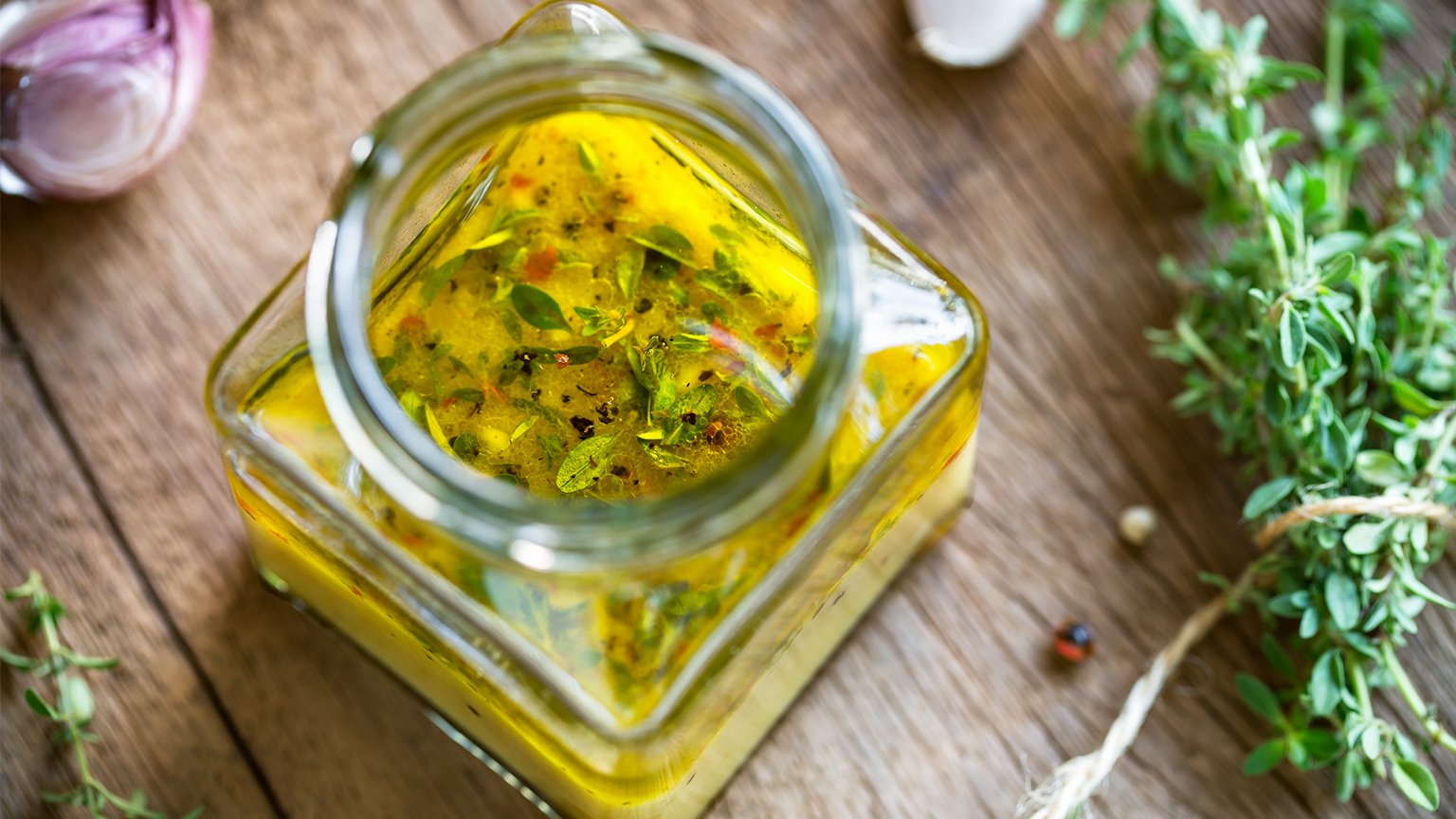 "It takes four men to dress a salad: a wise man for the salt, a madman for the pepper, a miser for the vinegar, and a spendthrift for the oil."
--Anonymous
Pancakes without maple syrup. A PB&J without the J. Perhaps worst of all? A salad without salad dressing. As Vizzini exclaimed (often!) in The Princess Bride: "Inconceivable!" A bowl of unadorned raw veggies and greens is nutritious, of course, but not very appealing without its perfect complement, or at least a little extra flavoring. The word "salad," after all, comes from a Latin term meaning "salted herb." So salad dressing is a requirement. What's the story behind some of the most popular kinds?
Oil and Vinegar – Salad being one of the world's oldest culinary delights, it stands to reason that oil and vinegar, that most basic of salad dressings, has been around for almost as long. There are records of denizens of ancient Egypt and Babylon (not to mention the Greek and Roman Empires) drizzling it over their elaborate bowls of fresh greens, which as time went on, often included such offbeat ingredients as flower petals and celery root. The dressing is composed of balsamic, white wine, red wine, or some other variety of vinegar and olive oil (extra virgin a plus!), and the optimum ratio is three parts oil to one part vinegar. You can blend them together or, as you do at a restaurant table, dribble some of each on your salad to your personal taste and toss.
Vinaigrette – While a vinaigrette dressing contains oil and vinegar, it also usually incorporates anything from salt, pepper, fruit juice, mustard, honey or some other sweetener to garlic and other flavorings. Just whisk them together, and voila! A tasty (and generally healthful) dressing. As you might guess from its name, it's French in origin and its name is derived from "vinaigre," or vinegar, and became popular just before the dawn of the 20th century. Here are some fun vinaigrette variations from Bon Appétit.
French – This bright orange dressing is essentially a vinaigrette with tomato flavoring (usually ketchup) added, along with sugar, salt, paprika, and other dried spices. It is called "French" dressing because it was thought to be invented and popularized by a Frenchman in England in the late 19th century. Later (probably due to its tomato taste), it was often considered a lighter form of barbecue sauce, and cookbook writers have variously referred to it as "Ohio" dressing, "Kentucky" dressing, or even "Italian" dressing, depending on its particular set of ingredients.
Russian – The name is misleading, as this dressing is believed to have been created in America sometime before 1910 by a James E. Colburn, who bottled it and sold it in his Nashua, New Hampshire store. And the "Russian" in its name is probably due to one of the dressing's original ingredients: caviar. Traditionally, Russian dressing is composed of ketchup, horseradish, chives, chili sauce, onions, pimentos, and sometimes – but not always – mayonnaise, which is going to be an integral part of the dressings to follow. These days, its most popular use is not on salads but sandwiches, especially the Reuben. Due to its creamy texture and pale orange color, Russian dressing is often mistaken for…
Thousand Island – This is another American creation, named for the island chain along the St. Lawrence River between New York and Canada. There are two claimants for the invention of this popular mayonnaise-based pink-orange dressing: George Boldt, owner of New York City's Waldorf-Astoria Hotel, who dreamed it up with his wife while cruising the river near their summer resort; and a woman named Sophia Lalonde, whose one-page, handwritten recipe was found in a safe in the back of a restaurant located in, fittingly, the Thousand Islands Inn in Clayton, New York. Either way, this is another dressing that combines mayonnaise, ketchup, pickle relish, lemon juice, paprika, and notably, a hard-boiled egg. Like Russian dressing, it is a popular topping on sandwiches (including, reputedly, McDonald's Big Mac).
Ranch – America's bestselling (for almost 30 years!) and arguably most versatile salad dressing was created sometime in the early 1950s by a plumber and contractor named Steve Henson while on a temporary assignment in the Alaskan bush. After returning home to California, he and his wife founded Hidden Valley Ranch in Santa Barbara County, where they served the instantly popular dressing to customers and also sold it as merchandise – both in bottles and also as a seasoning packet for patrons to prepare at home by adding buttermilk and mayonnaise. Ranch's additional ingredients include mustard, garlic, and numerous other herbs and seasonings. You will find ranch dressing not only on salads, but in dips and on sandwiches.
There are many others, of course (Caesar, Green Goddess, Creamy Garlic, Italian, Blue Cheese, and more). And recently, Heinz decided to capitalize on the public's yen for blended condiments with Mayochup (mayonnaise and ketchup), Kranch (ketchup and Ranch), Mayomust (mayonnaise and mustard), and Honeyracha (honey and hot sriracha sauce).
Given how many dressings utilize some combination of the above elements, all of these would probably taste great on salads. Just be sure to keep track of the fat and calories!