Salad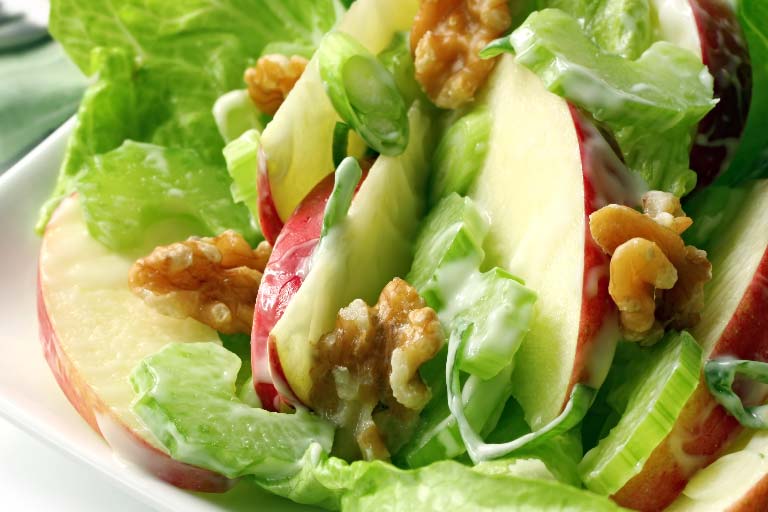 If there's any dish more ubiquitous, adaptable to personal taste, and easier to make than salad, we don't know what it is. From the very first time someone in ancient Greece or Rome threw some raw greens into a bowl with oil, vinegar, or salty brine (the name comes from the Latin herba salata, or "salted herb"), salad has played an essential role in dining. Let's look at a few favorites:
Garden or Green salad — This most often serves as an appetizer or side salad, and features leafy greens tossed with dressing and vegetables, which can include anything from cucumbers, tomatoes, radishes, and carrots to peppers, olives, celery, artichoke hearts, and avocado. Dressings can run the gamut from vinaigrette to bleu cheese and everything in between.
Caesar salad — This popular offshoot of a green salad is composed of chopped romaine lettuce, croutons, hardboiled egg, and lots of shaved Parmesan cheese — tossed with, of course, the main event: Caesar dressing. Its ingredients generally include Dijon mustard, mayonnaise, garlic, olive oil, black pepper, vinegar, and a few drops of lemon juice; anchovy fillets are sometimes added. Two different Italian chefs have claimed credit for its invention — one based in San Diego, Caesar Cardini (hence the name), who allegedly invented it during Fourth of July weekend in 1924 at his restaurant in Tijuana; and the other in Chicago, two decades earlier, where this concoction was a menu item at his New York Café.
Bound salad — These are salads that are "bound" together by mayonnaise or other thick creamy sauces. These include potato, pasta, or macaroni salad as well as salads that are often used in sandwiches, such as chicken, ham, tuna, or egg salad. You will often find them at barbecues and picnics, and they have been popular since colonial times. Also in this category: gelatin salads.
Waldorf salad — This salad came into being exactly where you might expect: the Waldorf-Astoria Hotel in New York City. A dining room manager, Oscar Tschirky, dreamed it up in 1896. Originally, the salad was composed only of chopped apples, celery, and lots of mayonnaise; chopped walnuts and (sometimes) raisins were added later, and it is usually served on a bed of lettuce. A little lemon juice is added to keep the apples from turning brown.
Cobb salad — The Cobb salad was a product of Hollywood's famed Brown Derby restaurant — its chef, Bob Cobb, was raiding the eatery's refrigerator for something to eat late one night in 1937 with his friend Sid Grauman (owner of Grauman's Chinese Theatre of the movie star footprints), and they concocted this tasty salad out of leftovers. These days, a Cobb salad generally includes a variety of mixed salad greens, bacon, grilled chicken, Roquefort cheese, hard-boiled eggs, tomatoes, chopped avocado, chives, and red-wine vinaigrette. As it tends to be a heavy dish, it is generally served as the main entrée.
Ambrosia salad — This Southern classic, a sweet fruit salad, became a standard in the late 19th century, when citrus and tropical fruits began to be readily available. Its one essential ingredient: coconut (fresh or canned). Sugar, whipped cream, and vanilla are mixed with fruit and (in some incarnations) nuts, and it's best to make this on the day you plan to serve it, as the sugar can reduce the fruit to mush if it sets for too long.
Iceberg wedge salad — This refreshing retro appetizer is simple to make and all about contrasts: a quarter-head of crisp iceberg lettuce on a plate (sometimes cut into chunks) with finely chopped toppings (tomatoes, onions, bacon bits, bread crumbs) scattered like confetti on top of a generous dollop of bleu cheese dressing. This was big in the 1960s, and in recent years has made a comeback.
Caprese salad — Don't like lettuce? This one is for you. Just alternate slices of tomato with fresh mozzarella, top with basil leaves, olive oil, and balsamic vinegar, and serve with slices of crusty Italian bread. With a nice white wine, this makes a perfect alfresco summer lunch — close your eyes and think of Italy.
Can't make time for salad preparation at home? Fresh Express has you covered — they invented ready-to-eat bagged salad (or to be more precise, a way to keep it fresh) back in 1989. So you can always hit the refrigerated section in your local grocery's produce department for instant salad gratification.
We can't leave this topic without mentioning the salad bar, which first emerged in limited form in the late 1960s at restaurants such as Steak and Brew, which initially offered it free with their entrees. The first to really capitalize on the idea, however, was Chicago restaurateur Rich Melman of Lettuce Entertain You Enterprises, who installed what is generally considered the first all-you-can-eat salad bar in his Lincoln Park eatery R.J. Grunts when it opened back in June 1971. The restaurant, along with its extravagant 50-item salad bar, is still going strong today.
If your aim is to lose weight, this sort of all-inclusive salad bar will definitely require some self-discipline. But if you want to load up your plate with everything, we won't tell!