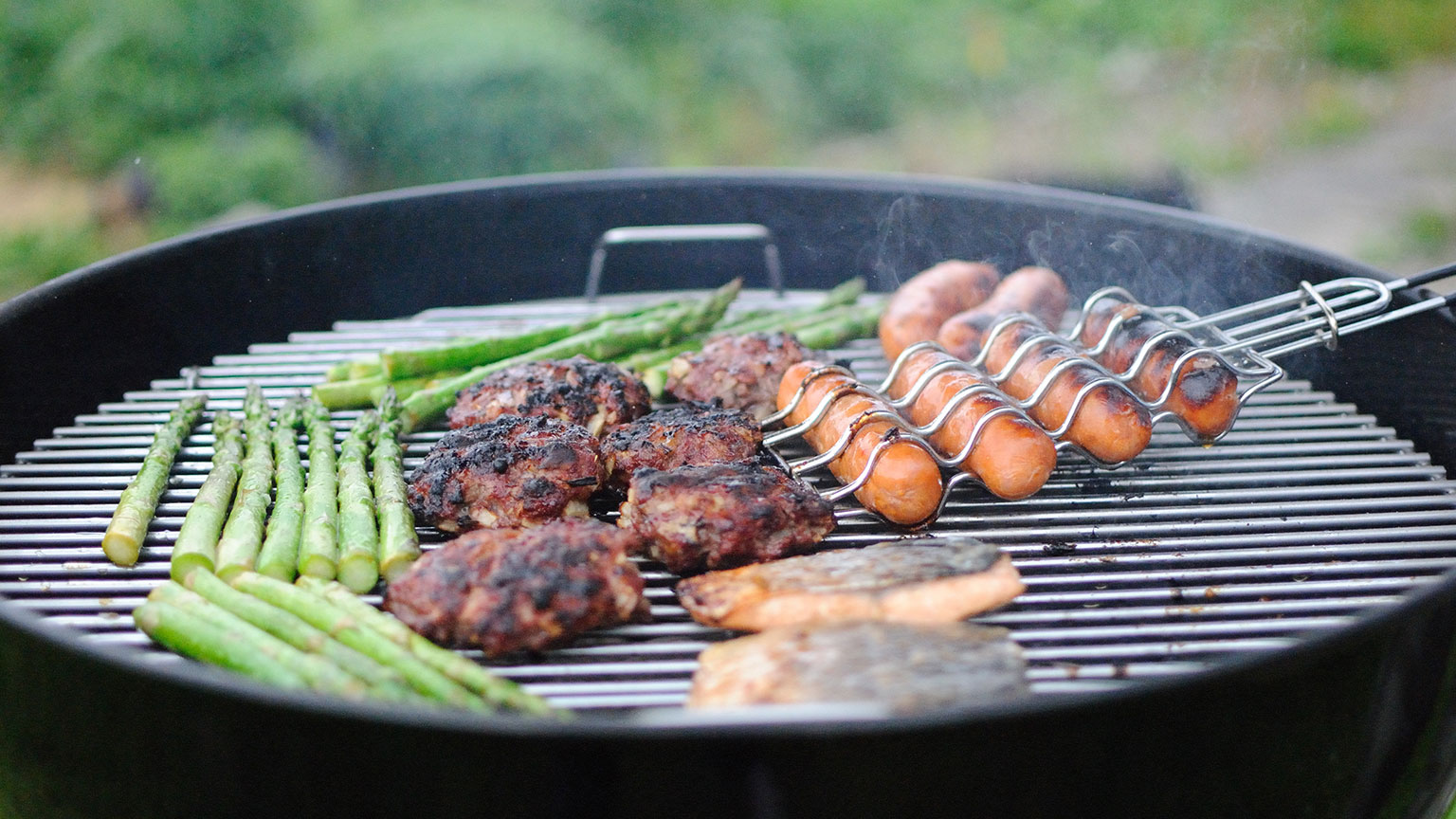 Along with a tinny rendition of "Turkey in the Straw" emanating from an ice cream truck, the sticky sweetness of fresh watermelon on your chin and fingers, and the sound of kids frolicking in an outdoor pool, nothing says summer quite like the aroma of burgers and brats cooking on a backyard barbecue grill. The practice of cooking meat over fire, of course, is an age-old tradition, but its methods, equipment, and what is actually being grilled have definitely evolved over the centuries.
The history of grilling begins shortly after the domestication of fire, some 500,000 years ago. The ritual of outdoor grilling as we know it may have originated with South American and Caribbean tribes, who cooked meats over a roaring fire built with sticks in a pit, a method known as barbacoa. It's likely that it was the Spanish conquistadors who brought this custom with them to North America.
Until well into the 1940s, given that digging a hole and gathering firewood were a lot of work, outdoor grilling in America mostly happened at big public campsites and picnics, where people would commune over, for example, a slow-roasted whole pig. After World War II, though, as the middle class began to migrate to the suburbs and returning GIs built single-family homes there, the custom of backyard grilling caught on, becoming all the rage by the 1950s.
The original brazier grill used for this purpose was by no means ideal, and could be tricky, if not downright dangerous, for amateurs to master. As How Stuff Works explains, "[the brazier grill] was a shallow sheet-metal pan sitting atop spindly legs and, in the case of deluxe models, a set of small wheels…Brazier grills were open to the elements and had no vents, which often made grilling a dicey proposition. Standing around one in a stiff breeze was a bit like being in an ash storm, with the added thrill of an occasional red-hot ember flying your way. They were an entertaining and inexpensive novelty, but food cooked with them often ended up incinerated on the outside and raw on the inside."
That you can grill perfect steaks today without setting your hair on fire, soiling your clothes, or singeing off your eyebrows is due to a metalworker (and Mount Prospect resident) named George Stephen, who in 1952 invented the wildly popular "kettle" style Weber grill that has been a fixture on backyard patios for decades. Stephen, a Hawaiian shirt-loving father of 12, decided that putting a lid on the grill would keep the ash and flame contained while sealing in the flavor of the cooking food and regulating the temperature. While working at Weber Bros. Metal Spinning Company, a concern that manufactured globe-shaped harbor buoys, he was inspired to slice one in half, use the round bottom half as a base, add legs and a grate to it and vents to the top half, and voila! A newly reimagined and affordable barbecue grill that kept the backyard clean while doing a far more efficient job cooking the cuisine. Fun fact: Stephen's neighbors affectionately referred to this new invention as "Sputnik."
The charcoal briquette was the brainchild of a man whose last name is a familiar one in grilling lore: Edward Kingsford. He teamed up with his relative, the frugal Henry Ford, to find a use for wood scraps being discarded during production of Ford's Model T. Kingsford came up with the idea of combining Ford's leftover wood and sawdust with coal dust and a binding agent such as cement or clay to form the mixture into small, hard pieces, inventing an economical and effective fuel for barbecuing. You can easily pick up a bag of Kingsford briquettes at the local store, or make your own (be warned, though: it is labor intensive).
If you have an outdoor gas grill, you can thank Don McGlaughlin of the Chicago Combustion Corporation. McGlaughlin's first viable invention was the Broilburger, which was powered by something labeled "permanent coals," or "lava rock." The original versions of these were almost exclusively used in restaurants, as they were not portable. A few years later, the company, now known as LazyMan, came up with a portable gas grill known as the Model AP, the first to utilize something that was previously the sole province of plumbers: small propane tanks.
In the "everything old is new again" category (and for those who aren't comfortable with propane), you could also go with the latest thing: a ceramic grill such as this or this. These versatile and attractive cookers use the ancient Japanese kamado "clay pot" method of grilling that has been around for 3,000 years (the term kamado means "stove" in Japanese), and can be used for smoking, roasting, and baking as well as grilling. This type of grill has the added advantage of precise temperature control, more efficient venting and air flow, and excellent heat retention; it produces less ash because it uses sustainable lump wood charcoal as opposed to standard briquettes; and its ceramic composition helps to keep your food from having a "metallic" taste. What can you make in it? Virtually anything with the right accessories, including pizza and bread.
So, if you haven't already, get out there and start grilling while the good weather lasts. And spare a good thought for all of the grilling pioneers who made cooking alfresco fun and achievable for the rest of us.