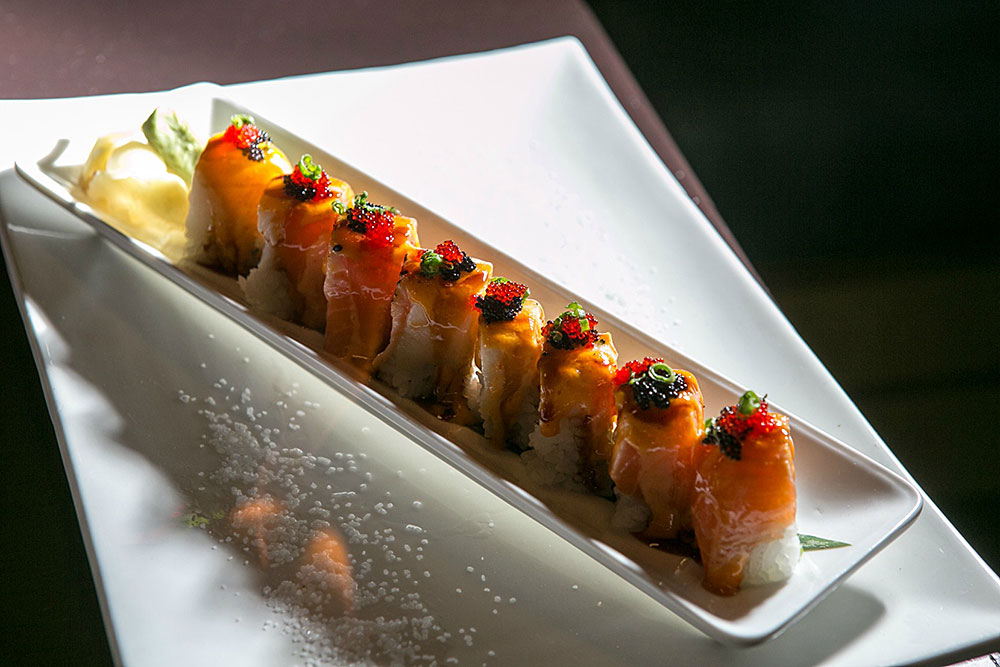 Miku Sushi, photo by Hilary-Higgins
New restaurants pop up in Chicago faster than Punxsutawney Phil can pop up from the ground. Fortunately, despite the forecast we have warming new restaurants to keep us excited and prevent cabin fever. From a hotly anticipated new Michigan Avenue wine temple to a "furious" new ramen joint, here are some ideas for new dining experiences.
In the shadows of the historic Art Institute of Chicago, on one of the most famed streets in the country, you'll find one of the hottest new restaurant entries in the city. Seven Lions roared into business courtesy of Alpana Singh, former Check, Please! host, esteemed Master Sommelier, and proprietor of River North's successful restaurant, The Boarding House. While her first restaurant may skew more eclectic, Seven Lions derives inspiration from nostalgic American clubhouse lore. Chef Chris Curren, previously of Homestead on the Roof and Blue 13, is the man behind the menus, cooking up a modern take on Americana with dishes like lobster Cobb salad, lamb ribs, chicken and duck club sandwiches, relish trays, Dutch baby pancakes, and more. True to form, the beverage program pays particular homage to American wines, curated by the wine whisperer herself. Get thirsty for more than 250 American bottles across the contemporary list, along with craft beers and neo riffs on classic cocktails.
Considering the perfect antidote to blisteringly cold temperatures is a hot bowl of ramen, Furious Spoon could not have opened at a better time. The new noodle joint from acclaimed chef Shin Thompson is the latest addition to Wicker Park's bulging dining and drinking scene, and a welcome addition at that. The concept is hyper-simple, focusing solely on a few ramen options with toppings, sides, and drinks. Considering fever pitch fandom for ramen Thompson has served in the past, at defunct Kabocha for instance, this is going to be good. Ramen bowls include vegetable ramen, shoyu ramen, miso ramen, and the namesake furious ramen laced with spicy miso, beef brisket, cha-sui, toroniku, poached egg, marinated mushrooms, and garlic relish. Supplement bowls with toppings like bean sprouts, bamboo, pork belly, and pork cheeks, and augment with sides such as pickles, apple-chili hot sauce, rice bowls, and housemade gyoza.
When beloved Tank Sushi closed its doors in Lincoln Square, it left a maki-shaped void in the neighborhood. Thanks to newcomer Miku Sushi, that void has been nicely filled. The story behind Miku Sushi is the stuff of restaurant fairy tales, owned and operated by husband-wife team Stanley Liem and Nuchsara Katekaew, who met while working together at Tank Sushi in 2008. Over the years, Liem decamped Tank to open his own restaurant, Inari Sushi, and after getting married the duo opened Sala Bua in Chinatown. Their story came full-circle when they returned to the location of their meeting to open Miku Sushi, which features a wide array of creative maki rolls, nigiri, sashimi, and hot and cold small plates. As the name suggests, sushi is paramount, and quality is evident in each pristine bite, from the albacore nigiri and hamachi sashimi to Miku maki studded with unagi and foie gras.
Seven Lions
130 S. Michigan Avenue, Chicago
(312) 880-0130
Website
Furious Spoon
1571 N. Milwaukee Avenue, Chicago
(773) 687-8445
Website
Miku Sushi
4514 N. Lincoln Avenue, Chicago
(773) 654-1277
Website