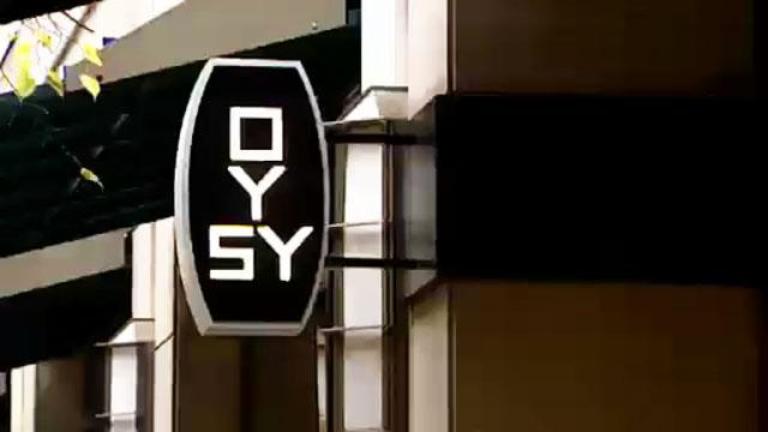 Because I love talking about food almost as much as I enjoy eating it, the opportunity to appear on "Check Please" was like a dining dream come true! Since I have a slight obsession with sushi, I submitted Oysy as my restaurant pick.
What I like best about Oysy is how it feels like stopping by a friend's place for dinner... if your friend happened to be an incredibly talented sushi chef. I've never made a reservation, but I'm always greeted warmly and seated quickly. While I've been to Oysy more than a dozen times, it added a new thrill to visit for the show. I'm always loyal to the California Sunset maki - one of my favorite rolls in Chicago - but I also discovered the delicious Tuna Tartare. Picture a mound of deliciously spicy tuna served in a martini glass and you have an irresistible appetizer perfect for sharing. I enjoyed every aspect of the meal, but wondered if the other "Check Please" reviewers would feel the same way?
When it came to trying Udupi Palace, I literally had no idea what to expect. Indian food was completely foreign to me and this would be my first venture to Devon Street. Based on my inexperience with the cuisine, I hoped the restaurant would provide ample guidance on what to order. In reality, it was like being a tourist without a map. My discussion with the waiter was less of a conversation and more of a guessing game, but the outcome was a pleasant surprise. The portions were beyond generous and every dish was incredibly flavorful. My friend and I sampled multiple dishes, but the Masala Iddly and Vegetable Samosa were the highlights. I left in a food coma, but it was worth every bite.
The best part about Topo Gigio is the location, but the food is a close second. I love Old Town and the restaurant is in the sweet spot, right in the middle of Wells Street. It's an idyllic spot and a natural reason for the restaurant's popularity. However, you can also expect above-average Italian cooking that warrants the slightly high prices. On this visit, I deliberately tried to sample dishes beyond the pasta and I was definitely impressed. The filet medallions were paired with a delicious mushroom sauce and the scampi appetizer was a perfect starter dish. I only intended to taste the tiramisu, yet somehow devoured the entire decadent dessert…and highly recommend it to anyone with a sweet tooth.
When it came time to film "Check Please," I felt like a kid on the first day of school. I was nervous, excited and certain I was wearing the wrong outfit. I wanted to make a good impression, but worried I would fail miserably. It was a long cab ride to the WTTW studios, but once I arrived the morning flew by. Everyone I met was the equivalent to the friendliest kid in class. We made introductions, walked through the schedule and tried diligently to talk about everything but our restaurant reviews. Alpana Singh - the food & wine guru and talented host - pulled each of us aside for quick conversations about the restaurants... and I quickly realized that she's a living encyclopedia for everything dining and drinking related.
The taping itself was a blur and I couldn't believe how quickly the time passed. Aside from being on a set, it actually felt like a dinner party. When you put four talkative people around a table who are naturally passionate about food, I think a lively conversation is inevitable. I can't wait to watch the actual show and celebrate a wonderful experience with my favorite food... sushi.