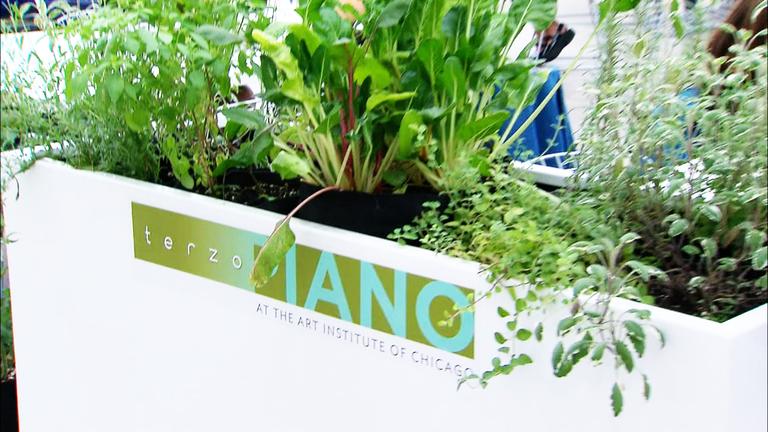 This week's episode of Check, Please! takes us to three very different restaurants. We armchair travel from the chic  Terzo Piano located on the third floor in the Modern Wing of the Art Institute of Chicago to the near west side and a diner that has been serving huge portions of corned beef since 1933. Talk about contrasts! I love it when our producers ask people who would normally never consider visiting a particular restaurant to try it out and review it for us. All the better, I love it when we are as surprised as our guest reviewers are about the experience!
Over the past nine seasons of Check, Please!, we have featured many bistros, counter cafes, Italian trattorias, hip and trendy sushi bars, hot dog or hamburger joints, and fine dining restaurants. My favorite thing is when a guest reviewer introduces us to a little-known and unexpected restaurant suggestion like Moon's Sandwich Shop. It really is fun to see what everyone, including the recommender, has to say. So Moon's, recommended as a "Chicago original" by David, is a neighborhood, counter-style, greasy-spatula kind of diner where you can get a heaping plate of eggs for breakfast or a juicy-messy burger or a mountain of (as described by David) "killer" corned beef for lunch at a really great price. This restaurant is located on the near-west side, on south Western. This is a section of the city that has seen hard times and not a location many people would consider traveling to for a meal out on the town. I think Tommy, fashion designer and world-traveler, said it best. "Holy Alpana Singh!" he cried when he came upon the diner and started looking around for the candid camera. "Someone must being playing a joke," he thought. When our guest reviewers are selected for the show they get excited about trying new restaurants, and most don't expect to visit one like Moon's. When Karin finally convinced herself to get out of her vehicle and go inside, she was surprised that she enjoyed her visit. In her words, "it was an adventure!" Tommy, first noticing there was no hostess to seat him, was very animated about his experience and enamored with his server, Bay-Bay. All and all, they had to agree with David. The food was good. In fact, Tommy even admitted he wants to go back again. It's good to shake things up a bit and try something different.
While watching the show, did you catch Alpana's reaction to the discussion about Moon's Sandwich Shop? Did you notice how we didn't hear much from her in the discussion, except for some giggling in the background? Tommy's hilarious description of his experience got the better of her as she was taking a sip of her beverage. Alpana couldn't help but laugh and get all choked-up. If you watch closely, at one point she leans down past the table laughing and clearing her throat. Listen carefully and you'll even see her raise her water glass, take a sip, and very quietly say to her guests, "this has never happened before." Our guest reviewers often have a great time on the show and there is much laughter around the table, but I think even Alpana wasn't ready for Tommy. We never stopped the taping when we recorded this episode, Alpana eventually became composed, and the discussion continued. The television side of me thinks that Tommy should have his own show!
Anyway, we hope you enjoyed this week's episode and the other two featured restaurants. Keep watching!
Carmen M. Schmidt
Associate Producer, Check, Please!
WTTW