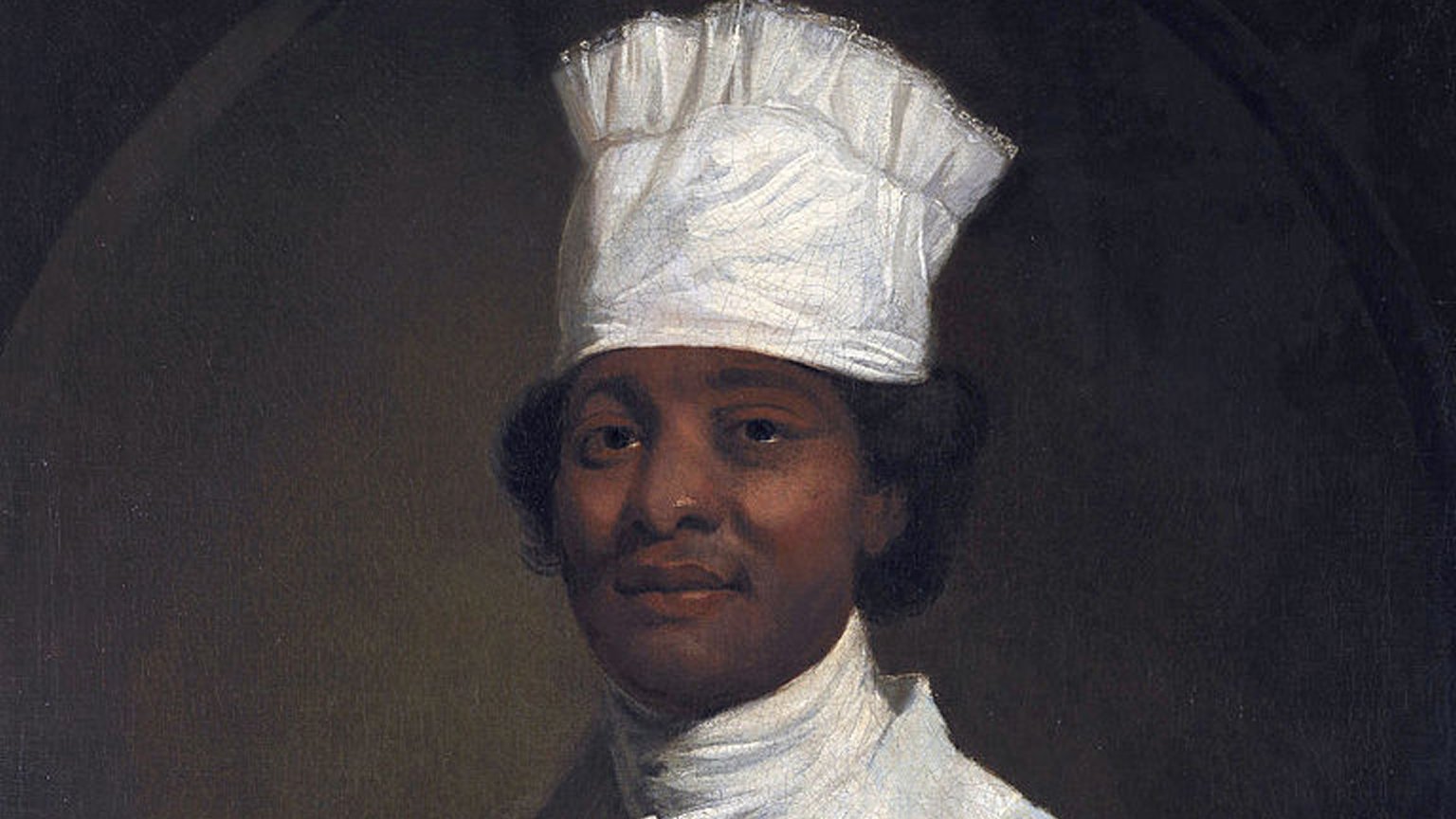 A portrait long wrongly presumed to be of Hercules Posey, by an unknown artist.
"A celebrated artiste…as highly accomplished a proficient in the culinary art as could be found in the United States."
--George Washington's step-grandson George Washington Parke Custis, on Hercules Posey
"You know the brother had skills, real mad skills."
--Food historian Adrian Miller
He was a true trailblazer: a culinary genius who ruled the kitchen of the most important residence in the country, an entrepreneur, a man about town – and he accomplished all of this while enslaved in Colonial times. Meet Hercules, head cook to President George Washington, and almost certainly the first one-name celebrity chef in American history. In honor of Presidents Day and Black History Month, here is some information about him, and some foods he may have prepared for the President and his family.
Hercules Posey (or "Uncle Harkless" as he was sometimes known) was born sometime around 1754. His surname came from his original owner, John Posey, whose estate bordered General George Washington's Virginia plantation, Mount Vernon. While still a young boy, Hercules's ownership transferred to Washington as collateral for a loan that Posey couldn't repay. Hercules grew up at Mount Vernon and was apprenticed to Washington's cook there, eventually taking over the kitchen.
Sometime in the early 1770s, Hercules married Alice, a fellow slave who came as part of Martha Custis Washington's marriage dowry. Hercules and Alice had three children together; they and Alice (until she died in 1787) remained the property of the Custis side of the family, while Hercules belonged exclusively to General Washington, and Hercules ingratiated himself to his master with meals cooked just as Washington liked them.
After Washington assumed the Presidency in 1789, Hercules and eight other slaves (including his son Richmond) were brought from Mount Vernon to Philadelphia, then the nation's capital, to serve in Washington's new household while the White House was being built. Washington was unhappy with the meals being served up by the resident cook, and she was quickly sacked in favor of Hercules. There was a problem for Washington's continued ownership of Hercules, though – the Gradual Abolition Act of 1780 had made it illegal to keep slaves on Pennsylvania soil for more than six continuous months; if they were there even one day longer, those slaves were automatically free. Washington got around this law in order to keep his slaves by rotating them from Mount Vernon to Philadelphia, shipping them back and forth just before the deadline.
But not Hercules – Washington so valued his cook's culinary artistry and management skills that he came up with a way to incentivize Hercules to stay. He allowed Hercules a highly unusual amount of freedom and also permitted him to sell excess foodstuffs and leftovers from the kitchen, keeping the profits (as much as $5,000 annually in current dollars) for himself. Hercules became an important personage around town – after finishing his work for the day, he was seen frequenting taverns and restaurants and attending the opera in fine clothes, sporting a gold-tipped walking stick. Each day as he headed to the outdoor food market to procure ingredients for the Washington household's meals, his patronage was highly sought after by merchants who fought to serve him, and by extension, his master.
What did Hercules cook that earned Washington's admiration?
Reportedly, Washington's personal tastes in food were relatively unadventurous. His favorite meals came from the plantation: homegrown vegetables and fruits (including cherries, although contrary to myth, Washington did not actually chop down any cherry trees); meats, game, and fowl; a wide variety of nuts; and especially fresh fish and oysters. And he loved an informal breakfast of hoecakes (pancakes) slathered with butter and honey and washed down with hot tea. (From Mount Vernon, here is Washington's hoecake recipe – perhaps it came from Hercules.) As President, however, he and Mrs. Washington recognized the importance of putting out an impressive spread for visitors. And Hercules, who reportedly ruled his interracial staff of slaves and indentured servants with an iron fist, obliged, and then some.
The Washingtons, in addition to the occasional state dinner, hosted a weekly 4:00 pm dinner on Thursdays, where as many as twenty guests dined on platters of roast beef, turkey and duck, mutton, veal, and other sorts of wild game, along with fruits, nuts, and jellies, plus cakes, pies, and other elaborate desserts, including trifles and puddings that reflected Washington's English heritage. Wine was served, but not in abundance.
Hercules, despite missing his children back at Mount Vernon, reveled in the freedom he enjoyed in Philadelphia. But after Washington announced his intention to retire from the presidency and take up permanent residence back at Mount Vernon, Hercules decided he wasn't going with him. He successfully escaped on Washington's 65th birthday in 1797, eventually making it to New York City. Nothing definitive is known of his life after that, but it is recorded that he died there in May 1812. Washington had left a directive in his will that upon his death (just two and a half years later), all of his slaves be freed, but Hercules may never have known this. His children, however, being the property of Mrs. Washington, remained enslaved at Mount Vernon.
A few months after Hercules escaped, it is said that a visitor to Mount Vernon asked the cook's small daughter if she was sad that she would never see her father again. "Oh, sir," she replied, "I am very glad, because he is free now."