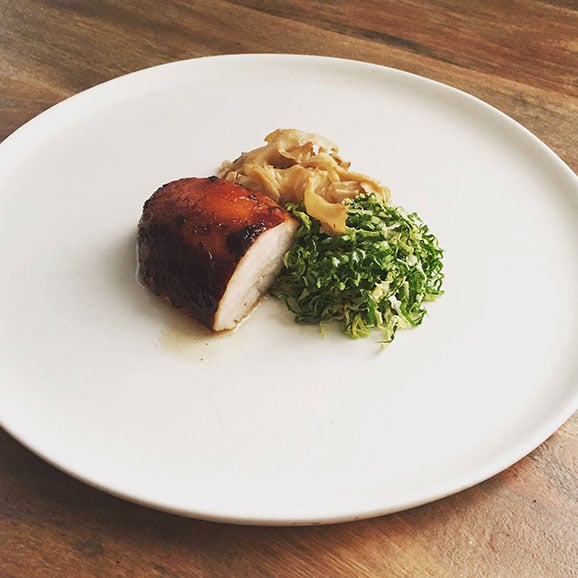 A locally sourced dish at Lincoln Square's Elizabeth
Are you a locavore? If you know what this term means without having to look it up (and consider yourself to be one), chances are you're a fan of the "farm to table" movement. In honor of a Check, Please! featured eatery in this category, Evanston's Boltwood, here's a closer look at the what, when, and why.
"Farm to table" (or "farm-to-plate" or "farm-to-fork") might not necessarily mean the ingredients in your meal come directly from a farm — they might also be sourced from a ranch, dairy, fishery, winery, brewery, or some other sort of food producer, and could legally come to your chef from an area as far away from Chicago as Nashville, Tennessee. And while "farm to table" (or "F2T" for those in the know) is popular right now, it's not a new trend — actually, it's a very old one.
Long before President Eisenhower brought us the big interstate highways, most Americans lived within shouting distance of a farm. Almost everything they ate was planted in their own garden, baked in their own oven, gathered from their own chicken coop or henhouse, and/or cooked on their own cast-iron stove. People canned their own homegrown fruits and vegetables for the winter months — seemingly every home had a pantry full of vacuum-sealed Mason jars. Anything they couldn't produce themselves generally came from a farm no more than 50 miles away from home, and usually, they knew the farmer personally.
As these denizens of rural areas began to migrate to the big cities, the locally sourced foods to which they were accustomed became more challenging to obtain. But once the highway system came along, food could be trucked from very long distances to urban dwellers, which was great news — except preservatives had to be added to ensure the harvest wouldn't spoil on the journey. Later, foods also began to be genetically modified with growth hormones to make them bigger and better looking (but not always better tasting).
In the 1960s and '70s, the hippies (while they were also indulging in free love, controlled substances, and Grateful Dead concerts) went back to basics and took up organic gardening. No DDTs, no PCBs, no waxy sprays on your root vegetables. Just the food and ONLY the food…artisanally made, sustainably grown, and shared with others in the commune. It didn't take long for restaurateurs to take note of this trend, which was not only much healthier but potentially quite lucrative. One of the pioneers in the movement is Chicago's own Rick Bayless, of whom Vanity Fair said, "Rick Bayless, whose Frontera Grill and Topolobampo…gave rise to a group of restaurants, cookbooks, and TV shows, has been supporting and helping to start farms around Chicago for decades."
Apart from Boltwood and Rick's perennially popular Mexican eateries, where else can you find F2T cuisine in the Chicago area? Lots of places! Here are just a few:
Uncommon Ground (Lakeview and Edgewater): Considered by many Chicago's "original farm-to-table restaurant," Uncommon Ground recently celebrated its 25th anniversary. Both locations boast certified organic breweries and rooftop farms, complete with beehives.
The Bristol (Bucktown): This busy gastropub operates on a "nose to tail" approach to its food preparation with locally sourced ingredients, and offers an extensive beer and wine list. The Duck Fat Fries are a staple.
Elizabeth (Lincoln Square): Chef Iliana Regan, calling on her experience as a "forager," takes the F2T concept one step further, with her intimate, Michelin-starred restaurant specializing in "New Gatherer Cuisine," to highlight "how abundant we are in the Midwest," which includes what she forages herself from her own garden and local parks. Learn much more about her philosophy and processes in WTTW's digital series FOODPHILES.
Girl & the Goat (Randolph Corridor): This popular communal dining spot, designed by Karen Herold (who also designed the Check, Please! set) offers small plates, fresh and unusual ingredients, local craft beers, and inventive cocktails. At the helm is the first female winner of Bravo's Top Chef, Stephanie Izard, who chats with Mark Bazer on local series The Interview Show.
Lula Café (Logan Square): This neighborhood eatery specializing in seasonal, organic dishes is especially popular with breakfast and brunch aficionados, but its Monday prix-fixe dinners are have also kept foodies coming back for more. Chef Jason Hammel is also involved in the Pilot Light project promoting healthy eating to Chicago's schoolchildren. Hear more about it on WTTW's web series Chat, Please!
Pleasant House Pub (Pilsen): This family-owned bakery and tavern is known for its British-inspired savory meat and vegetable pies, breads, and pastries made from locally sourced foods. Its brick-and-mortar restaurant and pub has built on the success of its sought-after food truck.


A royal pie at Pleasant House Pub

Gather (Lincoln Square): Chef Ken Carter is a veteran of the famously upscale Charlie Trotter's, but the menu at his casual eatery includes something for everyone, including Gather's signature burger, made from locally sourced beef and ground by hand in the restaurant, where the buns are baked daily as well.
Even if you live nowhere near a local farm, through the commitment and creativity of local restaurateurs you can enjoy everything the F2T movement has to offer, and reap the health benefits, too. A win-win!