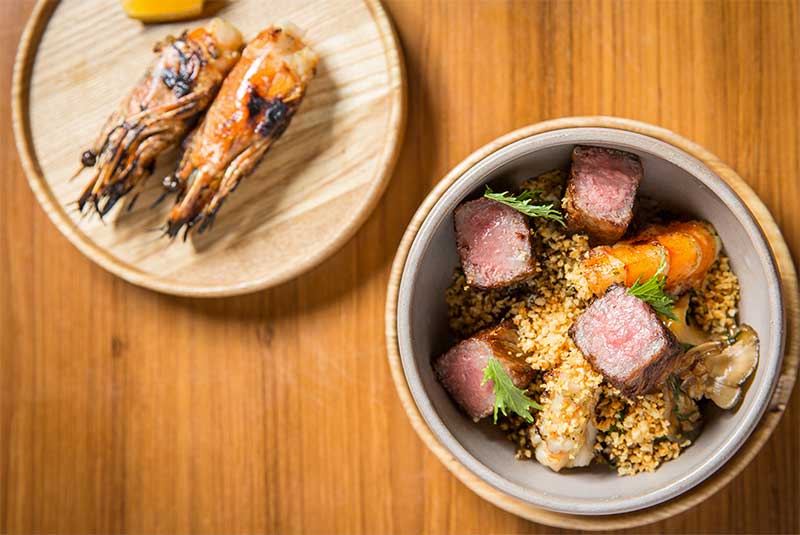 Hello! Hope you are all staying warm. It's chilly outside, but I think that's perfect weather for tucking into a new restaurant for a delicious meal with friends. As you know, we have lots of great suggestions for you! This week we visit Momotaro in West Loop, Goree Cuisine in Kenwood, and Johnny's Grill in Logan Square. Do you love sushi and ramen but want to try some other Japanese classics? Are you wondering what all the fuss is about Japanese whisky? Read on as this week I chatted with Momotaro's executive chef Mark Hellyar and beverage manager Lance Gresak about all things Japanese. Here's what they had to say:
Cat: Tell us a bit about your background and what was most formative for your cooking style from the time you spent in Japan.
Chef Hellyar: My background really started in French cooking under Michel Richard, which led me to Fat Duck in England and then as chef of Blue Duck in DC where I was promoted to a sister restaurant in Tokyo. Japan was formative in that it taught me to really focus on a singular item and see how much you can showcase that item through addition and extraction. So, for example with a fish like tilefish, you may fry its scales cooking only with scalding hot oil, while keeping the flesh soft and just cooked. The bones are cleaned and placed into dashi for a tilefish soup with its roe and the cheek meat from the head and so on. Or if you have a perfect tomato…instead of covering it in cheese, greens, purées, or nuts, you can hone in on the fruit.
Cat: How would you say Japanese culinary philosophy differs from that in the Midwest. Or does it?
Chef Hellyar: Two different worlds. And it's not just the Midwest. Japan differs from all cultures culinarily. What culture has utilized the sea to such an extent for both survival and nutrition? Fish that we consider to be "trash" or bait here is considered gold there and treated as such. Cooking is extreme in Japan.
Cat: What 5 ingredients should every home Japanese cook have in their pantry?
Chef Hellyar: Miso, a good shoyu, dashi tea bags, yuzu kosho for grilled meats, and a nice short grain rice either from Japan or California.
Cat: Many people think sushi or ramen when they think about Japanese food. Can you recommend some items on your menu that are can't miss and will help people break out of their rut?
Chef Hellyar: Anything cooked over bincho coal is not only more common in Japan than sushi, it's a delicious way of eating and can be very affordable. Want to save a dollar or two from the expense of sushi? Don buri, which is a rice bowl with fish and other toppings, offers good value, great taste, and is filling. And Japanese curry is perfect in winter with its warm spices. There's a world of great Japanese food far beyond ramen!
Cat: Japanese whisky is all the rage right now — your bar stocks so many options. For those new to the Japanese whisky game, can you offer some recommendations and tell us why we should try them?
Beverage Manager Lance Gresak: To answer your question as to why we should all try Japanese whisky, it's the diversity and precision! There's a wonderful balance of Western and Scottish influences. Whether it's peat, barley, rice, or corn you're looking for in a whisky, they have it all. And each expression is rare, which adds that much more interest. Some recommendations:
Kaiyo Mizunara Oak: Entry level
Ohishi Sherry Cask: Experimental
Hibiki Harmony: Blended just right for everyone
Stay tuned next week for three more great restaurants and some more inside dish right here on my blog!
Cheers,
Catherine
For an additional serving of inside dish, follow Catherine on Instagram @catdeorio and Twitter @CatCalls.