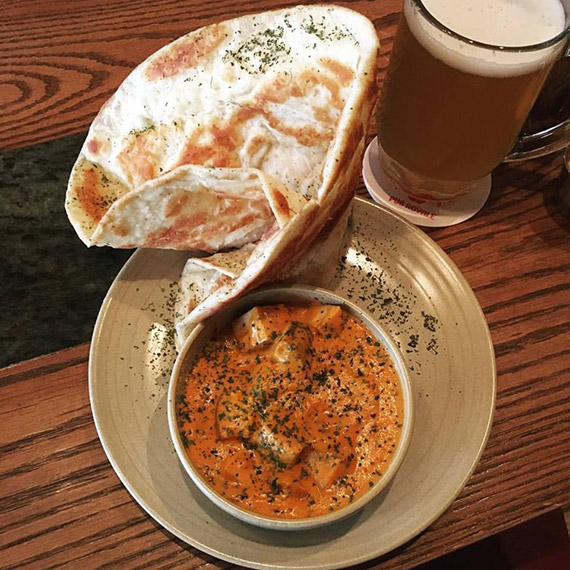 Buttered chicken at Wicker Park's Pub Royale
Hello! I'm just back from London, and pub and Indian food are still fresh on my mind! So this week I spoke with chef Nate Tano and beverage director Michael McAvena of Pub Royale, the anglo-indian pub in Wicker Park that was named one of Bon Appetit's 50 best new restaurants across the country. This week, we learn about chef Nate Tano's take on elevated pub grub and how to make a killer classic Pimm's Cup.
Q: The food at Pub Royale is a mash-up of Northern Indian cuisine and British pub grub. Can you tell us a bit about some of the twists you put on traditional Indian food to create your unique style?
Nate Tano: We took food that is hearty and pairs well with beer, and gave it subtle Indian touches. For example, the India Hot Chicken is dipped in a chili oil loaded with traditional Indian spices (rather than a Nashville-style hot sauce) and served on a naan with a side of pickled limes, which mimics the white bread and pickles served with a traditional hot chicken.
Q: What are some of the characteristics of Northern Indian cuisine?
Nate Tano: Northern Indian cuisine has a lot of vegetarian influence and uses breads cooked in tandoori ovens. A common spice blend used is garam masala. There are many variations of it; we have our own mix that we make in house.
Q: What beverage pairs best with your cuisine? If you don't drink beer, what else do you suggest?
Michael McAvena: Wheat beer pairs great with our food. Troublesome Gose is one of our favorites. But if you're not into beer, try one of our ciders on draft or our Royale Cups. See recipe below.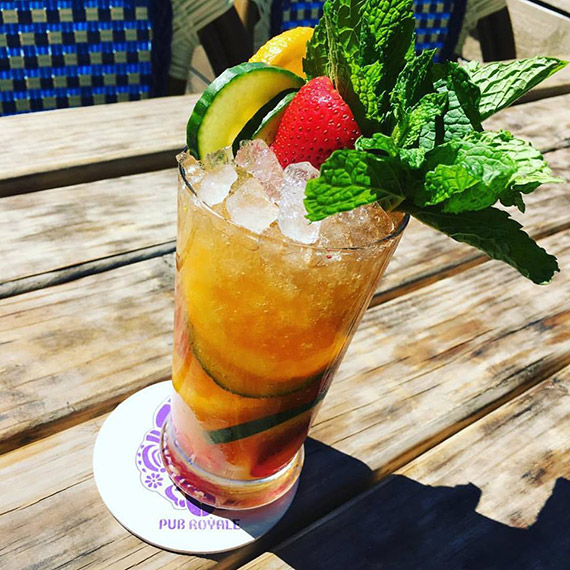 Royale Cup at Pub Royale
Q: All my guests and readers want to know. What the heck is a "dressed Hamm's"?
Michael McAvena: The dressed Hamm's is somewhat of an homage to a michelada (a popular Mexican beer-based cocktail made with lime, hot sauce, Worcestershire, and often tomato juice). We "dress" the can in Valentina hot sauce and a house blend of season salt. It's messy and delicious.
Q: You have an entire menu of the traditional Brit drink, Pimm's Cup, which happens to be one of my favorite drinks! Will you share a recipe for a Pimm's Cup?
Pub Royale's Classic Royale Cup
Michael McAvena
Ingredients:
2 oz. Pimm's
.25 oz. Gin
.75 oz. Lemon juice
.25 oz. Simple syrup
2 oz. Ginger beer
Garnishes:
Mint
Strawberry
Orange
Cucumber
Directions:
Muddle cucumber, strawberry, and orange in cup with simple syrup.
Add all other ingredients (minus the ginger beer).
Shake and strain onto cubed ice.
Add ginger beer and stir to incorporate.
Garnish with mint, strawberry, orange, and cucumber.
Stay tuned next week for three more great restaurants and some more inside dish right here on my blog!
Cheers,
Catherine