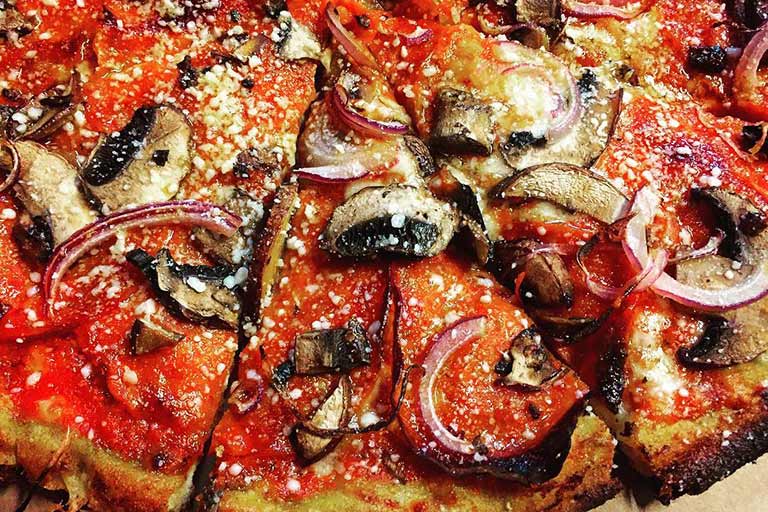 Pizza at Pisolino
Hello! This week, we visit Pisolino in Avondale, RPM Steak in River North, and Crisp in Lakeview. As you know, I love all things Italian and so this week I chatted with James and Rachel De Marte, the talented couple behind the Italian eatery Pisolino. James spent his formative years as a chef cooking in Italy, and his wife Rachel runs a successful event planning company here in Chicago. Some call them a dynamic duo. I just say, where there's a De Marte, there's a PAR-TY! Here's what they had to say:
Cat: James, you spent many years cooking in Italy. Can you tell us about your background and describe how that influenced your cooking style and philosophy?
James: I spent 10 years in Italy, mostly in Vicenza, Veronam and Venezia. Outside of the Veneto, I spent six months with Cesare Giaccone at his famed mountain outpost "Il Cacciatore da Cesare" in a small town in the mountains above Alba in Piemonte. I learned to cook from my grandmother, Angela. I think I was 12 years old when I started working in her kitchen.
She was from Bari, so I was exposed to her simple Mediterranean style at a very young age. My philosophy is to keep things simple, healthy, and interesting. I spent 5 years with Nicola Portinari at the Michelin 2-starred Ristorante La Peca in Vicenza. My grandmother laid the groundwork for my philosophy, but Nicola helped me hone it. I learned techniques for extracting flavor from ingredients, techniques for incorporating fats such as olive oil in place of butter or cream, and using different methods to make dishes easily digestible (which is especially important with pizza). These are the cornerstones of my style and philosophy.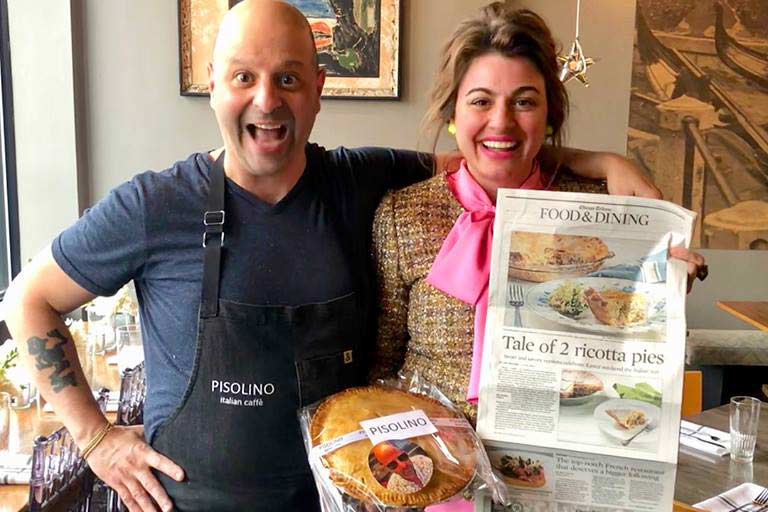 James and Rachel De Marte
Cat: What are your top tips for an aspiring Italian home cook?
James: Sharp knives! (No muscular force should be required when the knife glides through a tomato, for example.)
Also, fresh and local seasonal product is very important — and not just the professionals. Fruits and vegetables have seasons, and proteins do too! If you walk into the grocery, and something looks off and is pricey, it's likely out of season. I also encourage using organic products. Good does not equal complicated.
Use your senses — look, listen, taste, touch, and smell:
LOOK at the whole process, from beginning to end. Visual clues for success are apparent. Eat with your eyes first, right?
LISTEN to the food. When searing a steak, you want a high pitched searing sound for example.
TASTE everything throughout the process.
TOUCH for freshness, quality, and doneness.
SMELL for freshness, and for goodness sake, if you smell something burning, it's overdone!
Cat: Rachel…feel free to chime in here with some great entertaining tips for an Italian feast!
Rachel: Sure! Here are my tips and tricks for an Italian dinner party:
Decorate a dining table with fresh herbs and fruits.
Candles, candles, candles!
Various sizes and shapes of decoration make all the difference.
Don't forget menu cards.
Don't be afraid to mix and match patterns, like stripes and florals.
Use a homemade ingredient, and make more than you need! Have enough for both the meal, and as a gift to guests. Canned tomatoes are a great idea.
Keep the menu simple enough that you're not buried in the kitchen. This means you should prep as much ahead of time as you can!
Pair the wine, and keep it flowing.
Cat: Cheers to keeping the wine flowing! Speaking of wine, Pisolino offers some unique Italian wines. What are some you are most excited about right now?
James: We dedicate a lot of time to curating our wine list. It's pretty small — maybe 30 labels — but very well thought out and mostly Italian. I put Champagne and few Slovenian labels on the list, but the rest is Italian. We search for wines based on quality/price ratios and how well they pair with the food. We tend to veer away from heavily oaked wines and look for stainless-steel fermentation or concrete and amphora. Also, we have recently included a few biodynamic selections. Biodynamic wines take a little bit of salesmanship, but once you taste you are hooked! The wines I'm most excited about are the biodymamics — like the Primosic Ribolla Riserva 2012 and the Primosic Merlot 2009. Both are 100% natural and excellent representations of the biodynamic philosophy.
Well I will toast to that! Stay tuned next week for three more great restaurants and some more inside dish right here on my blog!
Cheers,
Catherine
For an additional serving of inside dish, follow Catherine on Instagram @catdeorio and Twitter @CatCalls.