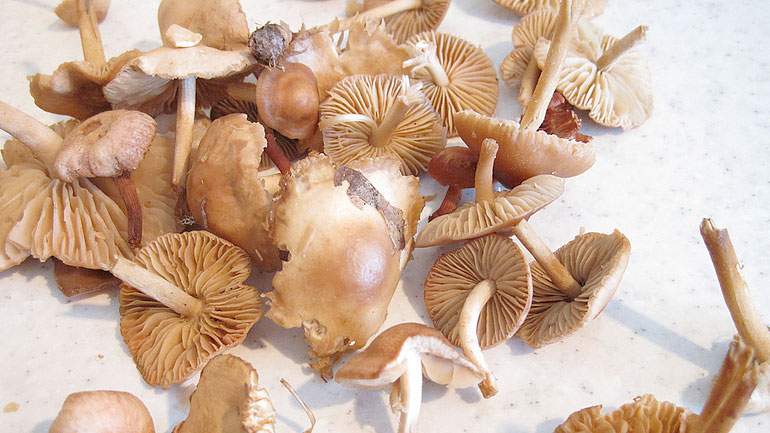 Ingredients:
1 cup lobster mushrooms, roughly chopped
1 cup chantrelle mushrooms, roughly chopped
1 cup cremini mushrooms, roughly chopped
¼ cup garlic, chopped
½ cup shallots, chopped
1 tablespoon rosemary, finely chopped
1 teaspoon thyme, finely chopped
½ cup chopped walnuts, toasted
½ lb. Montchevre goat cheese
1 tablespoon chopped chives
butter
salt and pepper

Directions:
1. Pre heat a large saute pan.

2. Add enough butter to cover the bottom and saute the shallots and garlic until translucent, about eight minutes.

3. Add the mushrooms and saute until tender.

4. Add the thyme and rosemary and saute for another minute.

5. Place the cheese and walnuts in a mixing bowl and add the ingredients from the saute pan. Mix thoroughly and let cool.

Makes 12 empanadas.

To cook:
1. Place approx. 4-6 oz. of desired filling in the middle of the dough.

2. Fold the dough over and seal the edges with warm water.

3. Use a fork to crimp the edges and either refrigerate or cook right away.

4. To cook pre-heat enough oil to fry in a pot to 375° F.

5. Cook empanadas on both sides until golden brown.