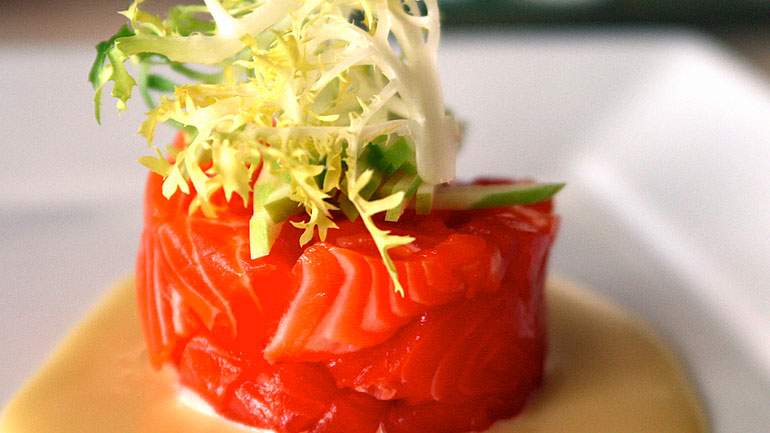 Tuna Tartar Ingredients:
Citrus vinaigrette
Herbs
Soy Sauce
Salt & Pepper
Mango
Cucumber
Aioli
Tuna
Wasabi caviar

Citrus Vinaigrette Ingredients:
2 parts olive oil
1 part lemon juice
1 part lime juice
1 part oj and 1 tablespoon honey
Pinch of each: Diced fresh herbs (parsley, chives)
Splash of champagne vinegar
Salt & Pepper

Aioli Ingredients:
2 egg yolks
½ cup canola oil
1 T garlic
Splash of water
Salt & Pepper
Chili paste to taste
1 teaspoon grainy mustard

Directions:
Spread tablespoon of aioli on plate.

Mixed diced tuna with soy sauce, citrus vinaigrette, wasabi caviar, fresh herbs, salt and pepper and form on top of aioli.

Mixed diced mango and cucumber with citrus vinaigrette, herbs, salt and pepper and spread next to tuna mound.

Garnish with a few sprigs of parsley or chives.