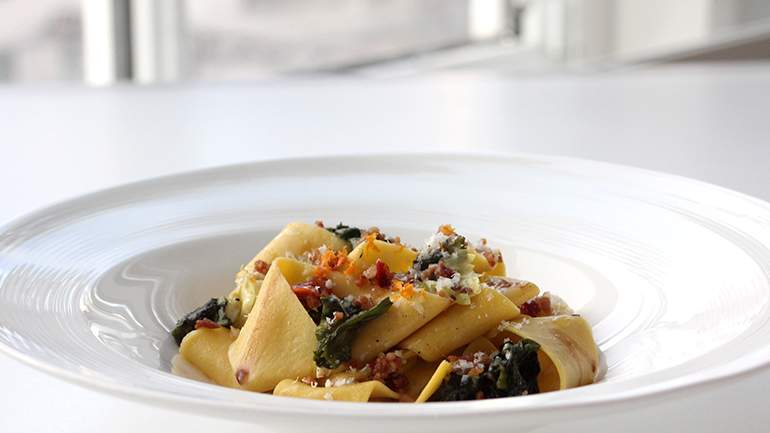 Chef: Megan Neubeck
Serving for 4 People
Ingredient List:
1# fresh pappardelle
1 small head of escarole
6 ounces of pancetta, ground or finely chopped
2 ounces of butter
8 ounces of chicken stock
1 shallot, minced
2 cloves of garlic, minced
2 Calabrian chilis, seeds removed and chopped
2-3 ounces of grated pecorino, or other salty sheep's milk cheese
Zest from ½ an orange, grated
¼ cup extra virgin olive oil
*Saba or high quality balsamic vinegar
Salt
Directions:
Cut the escarole in half and coat with 2 tablespoons of the olive oil, half of the minced shallot and the garlic, season with salt. Grill on both sides over a hot grill, about 3 minutes per side. Allow to cool completely, coarsely chop.
Bring 6 quarts of water to a rapid boil, season with salt. The water should taste of sea water.
To make the sauce add the remaining olive oil to large (14") sauté pan over medium high heat. Add the pancetta and cook 1-2 minutes while stirring so the pancetta browns slightly. Add shallots and continue cooking 1 minute. Add 6 ounces of the chicken stock to deglaze the pan, taking care to get any of the brown bits off the bottom of the pan.
While the sauce is reducing add the pasta to the water, make sure to stir the pasta to ensure that it doesn't clump together.
While the pasta is cooking add the chopped escarole, Calabrian chilis, orange zest, and butter to the sauce. Continue cooking allow the butter to help thicken the pasta sauce.
The pappardelle will be finished cooking in 3-4 minutes, using tongs or a large slotted spoon, remove pappardelle from the water and add directly to the pan with the sauce. It's okay if the noodles are a little bit wet, the starchy pasta water will help bind the sauce. Continue to cook the noodles in the pasta sauce 1 minute allow the flavors to marry. Sprinkle the pasta with the grated pecorino and toss to coat. Check the seasoning. If the sauce is too tight add remaining chicken stock or pasta water.
Plate the pasta in 4 bowls. Drizzle the top of the pasta with saba and extra pecorino if desired.
*Saba is similar to balsamic vinegar in flavor, but it is made of apples rather than grapes.