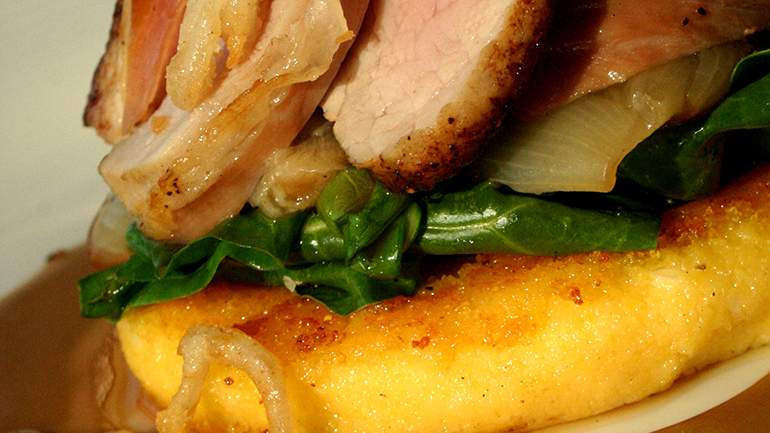 Chef: Rosalia Barron
Serving for 4 People
Manchego Cheese Polenta:
4 ounces of polenta
¼ ounce of shallots, diced
2 ounces of Manchego cheese, finely grated
½ ounce of butter, unslated
9 ounces of chicken stock
½ ounce of fresh thyme
1 ounce
of all-purpose flour
Directions:
In a large, shallow pot, sauté the shallots with butter. Add the chicken stock and bring to a boil. Add the polenta and stir until cooked (approximately 15 minutes). Add the Manchego and thyme and continue to stir. Stir in the heavy cream and salt and pepper to taste. Pour the polenta into a sheet tray and set aside for 1 hour to cool. Once cold, dust the polenta with all-purpose flour and sear each side, finish in a 350 degrees Fahrenheit pre-headed oven for 2 minutes.
Serrano Ham Wrapped Veal Loin:
1½ pounds of Veal Lion
9 ounces of Serrano Ham
Directions:
Trim all fat and gray skin off of the veal lion. Portion the veal loin into 3 ounces medallions (serving portion 6 ounces). Slice Serrano Ham very thin and cut in half length wise. Wrap the veal loin medallions with a slice of Serrano ham. Grill on each side until grill marks appear. Finish in the oven for 4 to 5 minutes at 350 degrees Fahrenheit (until medium).
Braised Shallots:
6 ounces of shallots, peeled whole
2 ounces of garlic, diced
2 cups of chicken stock
1 cup of veal-demi
Directions:
Place shallots, garlic, thyme and sage in a pan with chicken stock. Cover and bake at 350 degrees Fahrenheit for 30 minutes or until shallots are tender. Add veal-demi and bring to a boil. Separate shallots from sauce. Strain Sauce and place in a sauce pan. Simmer for 3 minutes and add heavy cream and salt and pepper to taste.
Swiss chard:
6 ounces of Swiss chard
¼ ounce of small shallots, diced
½ ounce of butter
Salt & pepper
Directions:
In a large pan, melt butter and add shallots. Sauté the shallots until translucent (less than one minute). Add Swiss chard to the pan to wilt. Season with salt and pepper to taste.
Fried Shallot Garnish:
4 medium shallots, thinly sliced
3 ounces of seasoned flour
4 ounces of vegetable oil
Directions:
Dust shallots in flour. Place vegetable oil in a pan on high heat. Add the shallots and fry until golden brown.
For Service:
Place hot polenta on the center of the plate and top with Swiss chard. Add the braised shallots and sliced veal medallions. Garnish with fried shallots. Enjoy!
Note from the Chef:
At the restaurant we make chicken Stock and Veal demi from scratch. At home can be very time consuming. You can find these ingredients at your local grocery store.