View all Recipes
Roasted Vegetable, Hearts of Palm and Carrot Mousse Terrine with Carmelized Popcorn Coulis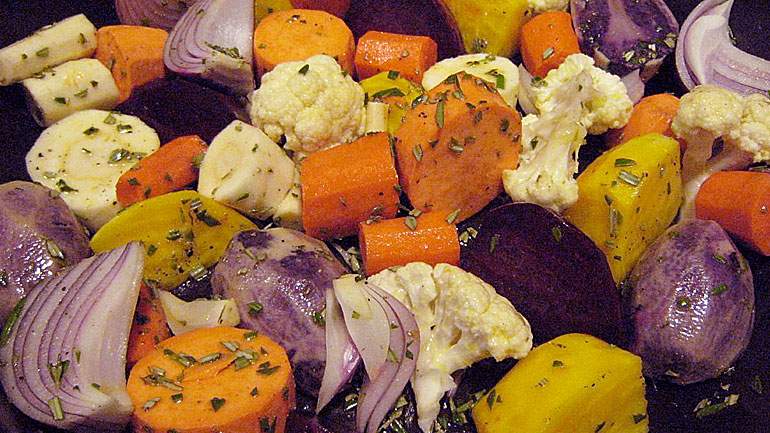 Ingredients for Terrine:
3 Zucchini, sliced thin and roasted
4 Yellow Squash, sliced thin and roasted
2 Med Sweet Potato, slice thin and roasted
6 Purple Potatoes, sliced thin and roasted
8 Carrots
1 can Hearts of Palm

Directions for Terrine:
1. cook carrots in water with a little slat and butter until tender

2. puree in food processor and add gelatin, check seasoning

3. take out the center of the hearts of palm and pipe the carrot mousse in the middle

4. layer vegetable alternately in bottom of terrine mold linen with plastic wrap

5. when terrine is half full place hearts of palm down middle

6. continue layering vegetables until full and cover with plastic wrap

7. place a sheet pan on top of terrine and weight it down with canned goods

8. cool for 4 hours

Ingredients for Caramelized Carrot Mousse:
1 lg. Carrots, cooked in water, butter and sugar
4 lg. Carrots juiced
5 Gelatin sheets, softened in warm water

Directions for Caramelized Carrot Mousse:
Puree the carrots in blender and add carrot juice.

Add gelatin.

Season to taste.

Ingredients for Sauce:
1 qt. of popcorn
½ cup sugar
1 cup milk
¼ cup red wine vinegar

Directions for Sauce:
Carmelize sugar in pan, add vinegar and popcorn

Add milk reduce to desired consistency.

Puree in blender and season.

Season and add 2 drops of tabasco sauce.