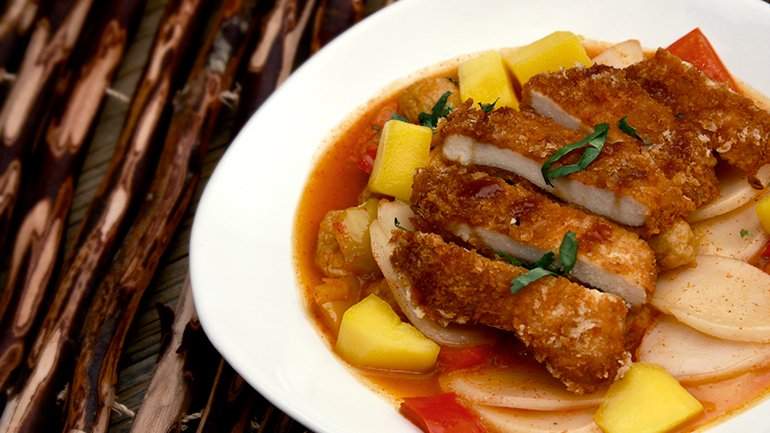 Chef: Bill Kim
Serving for 6 People
Ingredient List:
2 eggs
1½ cups of milk
1½ cups of Shao Xing (Chinese) cooking wine
3 tablespoons of chili powder
3 tablespoons of garlic powder
2 tablespoons of paprika
1 tablespoon of salt
2 cups of flour
4 pounds of chicken breasts, trimmed and pounded lightly to make even
500 gram bag of panko bread crumbs
6 ounces of Korean chili paste (gochujang)
3 ounces of sugar
2 ounces of water
2 quarts of chicken stock
1 cup of sweet chili sauce, Mae Ploy brand preferred
4 ounces of fish sauce, Three Crabs brand preferred
Juice of 1 lime
2 pounds of rice cakes
1½ cup of Korean fish cakes (quarter size balls) (optional)
1 red pepper, cored, diced into ½ inch pieces, and sautéed
2 mangos, diced into 1inch pieces
4 ounces of cilantro, picked, washed, and thinly sliced
Directions:
Whisk together egg, and then add next six ingredients.
Whisk in flour until lumps are removed.
Coat the chicken in batter, then crust with panko. Reserve
In a large pot, combine Korean chili paste, sugar, water, stock, sweet chili sauce, fish sauce, and lime juice on medium heat and whisk to dissolve sugar. Adjust seasoning to taste.
Add rice cakes, fish cakes, and peppers and cook until rice cakes are tender.
While broth is cooking, fry chicken at 315 degrees Fahrenheit until cooked through.
Drain on paper towels and slice through.
To assemble, separate broth and rice cakes into serving dishes, and garnish with mango, cilantro, and chicken.