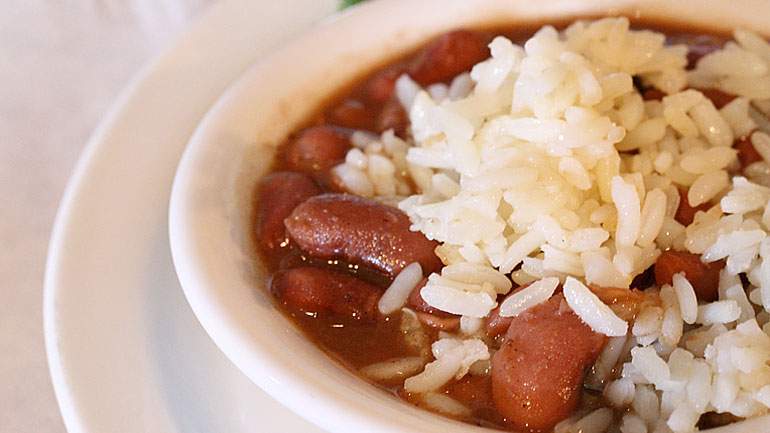 Ingredients for Red Beans:
Carrots, medium dice ½ cup
Onions, medium dice 1 ½ cups
Celery, medium dice ½ cup
Fresh garlic, minced 2 ½ Tablespoons
Bay leaf 1 each
Dry Thyme 2½ teaspoons
Olive Oil 1 Tablespoons
Black Pepper 1 teaspoon
Jalapenos, chopped 1 Tablespoons
Cilantro, chopped 3/4 cup
Ham base* ¼ cup + 2 Tablespoons
Red Beans, dried 1 lb
Water 2 quarts

* We use a commercial ham base. You can substitute ham bones from a baked ham and remove the bones after cooking. Another idea might be to use smoked turkey if you do not eat pork.

Directions for Red Beans:
1. Pour beans into a baking pan. Sift through for any rocks and rinse well.

2. Use stock pot to sauté carrots, onions, celery and garlic until onions are transparent.

3. Mix ham base with water and add to pot

4. Add remaining ingredients (except cilantro) to pot and bring to a boil. Simmer for 1 ½ - 2 hours or until beans are soft

5. Stir every 15 minutes

6. Add cilantro and cook for 5 minutes

7. Remove from heat

8. Serve over white rice with chopped scallions for a garnish.