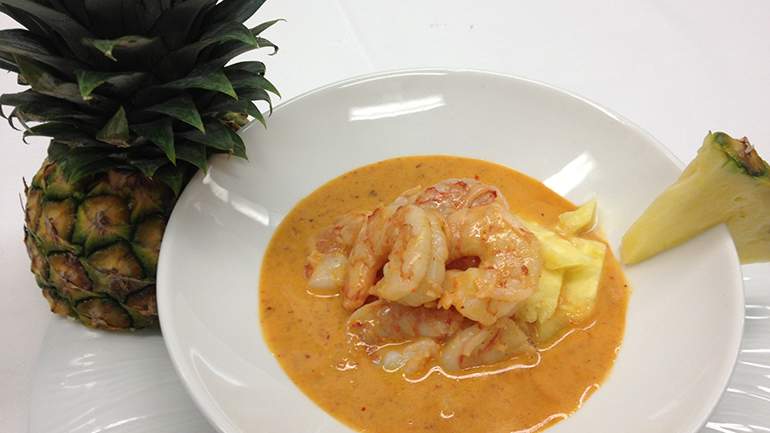 Serving for 2 People
Ingredient List:
1 can of your choice of Coconut Milk 13.5 ounces /400 milliliters
1 tablespoon of Thai red curry paste
1 tablespoon of dry crushed chili pepper
2 tablespoons of Asian fish sauce
2 tablespoons of vegetable oil
2 tablespoons of sugar
1 tablespoon of unsalted butter
1 cup of fresh crushed pineapple
2 cups of chicken stock
2 tablespoons of diced red onion
20 pieces of jumbo shrimp
1 fresh pineapple
1 lime wedge
2 cups of steamed white rice
Directions:
In a medium saucepan heat vegetable oil and stir in curry and crushed chili pepper until red color runs throughout. Pour in chicken stock and bring to a boil. Next, add coconut milk and cook for 5 minutes. Reduce heat and let simmer for 3 minutes. Stir in pineapple, fish sauce, and sugar, let simmer for an additional 3 minutes. Add shrimp and butter and simmer 4 more minutes. Turn off heat and squeeze in one wedge of lime.
Serve with steamed white rice and garnish with fresh pineapple wedge.