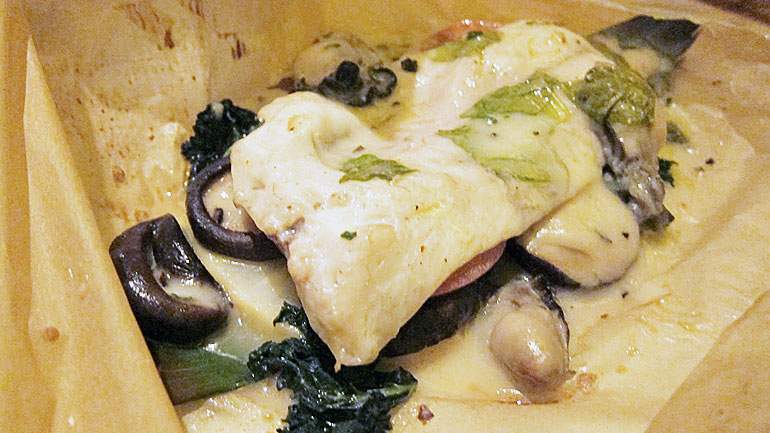 Ingredients:
12 oz Chilean Sea Bass
2 oz Potatoes, Red Cooked in Salt Water
1 oz Artichokes, cooked in olive oil
1 oz Tomatoes, red
1 oz Roasted Red Peppers
1 tsp Shallots, Raw
½ tsp Garlic, Raw
1 cup White Wine
¼ oz Mixed Herbs (Parsley, Chives, Basil)
dash Pepper, White
dash Salt, Table

Directions:
1. Place heart cut paper onto prep table. On right hand side of paper, place the potatoes, spread out in a circle.

2. Place on top of the potatoes the artichokes, then the tomatoes, and the red peppers.

3. Sprinkle the shallots and garlic on top of the peppers. Add the herbs and salt and pepper.

4. Add some of the white wine and a few drops of extra virgin olive oil on top of the garlic.

5. Cut bass into 6 oz portions. Season the fish with salt and pepper. Place on top of the vegetables.

6. Fold over the paper in half on top of the fish. Begin to fold the paper at the top of the heart. Fold into small angled strips, always folding on top of the last strip.

7. Bake at 400° F for 12-15 minutes.