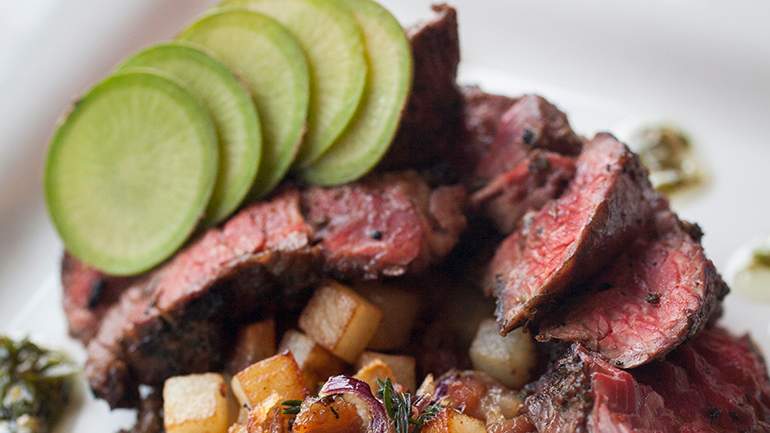 Chef: Ricardo Pineda
Serving for 2 People
Ingredient List:
10-12 ounces of hanger steak (untrimmed weight)
1 medium russet potato
¼ pound of mixed mushrooms (such as cremini, porcini and shiitake)
2 thick-cut bacon strips
1 small red onion
½ shallots
2 tablespoon of butter
2 springs of fresh thyme
2 sprigs of fresh rosemary
2 cups plus 2 tablespoon of high-quality olive oil
½ bunch cilantro
½ bunch Italian flat-leaf parsley
¼ bunch chives
1/3 bunch fresh tarragon
1 large caper berry
1 garlic clove
1 white anchovy
Kosher or sea salt
Freshly-ground black pepper
2 large radishes (green or black radishes preferred, if available)
Directions:
Marinade:
Strip the rosemary and thyme leaves from stems and coarsely chop. In a small bowl, mix 2 tablespoons, olive oil, chopped rosemary and thyme and a pinch of salt and pepper. Trim excess fat from steak. Score the surface of trimmed steak with ¼ inch knife cuts. Rub the steak on all sides with the herb mixture and place in a large freezer bag. Seal the bag and place in a bowl. Chill and marinate for at least 2 hours.
Grill Preparation
Charcoal grill: Remove grill rack. Prepare the grill and light charcoal briquettes. Let briquettes burn for about 30 minutes until they are covered with white ash. Using long-handled tongs, distribute the briquettes for direct and indirect heat. Lightly coat the grill rack with vegetable oil and place on the grill.
Gas grill: Preheat grill to medium-high heat (450 degrees Fahrenheit).
Chimichurri Sauce: Wash cilantro and parsley, removing stems. Wash chives. Strip tarragon leaves from stems. Finely chop the cilantro, parsley, chives, tarragon, caper berry, garlic and anchovy or pulse in a food processer until finely chopped. Place in a medium bowl. Whisking constantly, slowly pour the olive oil into the herb mixture. Add salt and pepper to taste. Cover and reserve at room temperature.
Steak Preparation: Remove steak from freezer bag and discard excess marinade. Grill steak for 2-3 minutes at a 45-degree angle over direct heat. Rotate 45-degrees and cook for another 2-3 minutes to create crosshatch sear marks. Flip steak and repeat. Move steak to indirect heat and grill to desired
doneness (rare 140°, medium-rare 150°, medium 160°, medium-well 170°). Remove steak from grill and let rest for 10 minutes.
Bacon, Potato and Vegetable Hash: Wash potato, leaving peel on. Peel shallot and red onion. Dice russet potato, mushrooms, bacon, red onion and shallot into ¼ inch pieces. Heat a saucepan to medium and add 2 tablespoons of butter. After butter melts, add diced vegetables and bacon and sauté, stirring occasionally. Cook and stir for 5-6 minutes, until the vegetables are almost caramelized. Add a pinch of salt and pepper and stir. Taste and adjust seasoning as needed. Remove from heat.
To Plate: Wash and thinly slice radishes. Slice grilled steak across the grain into ¼ inch thick pieces.
Arrange sliced steak on serving platter. Ladle hash over steak. Garnish with sliced radishes.
Drizzle chimichurri sauce on the plate and serve with remaining chimichurri sauce.