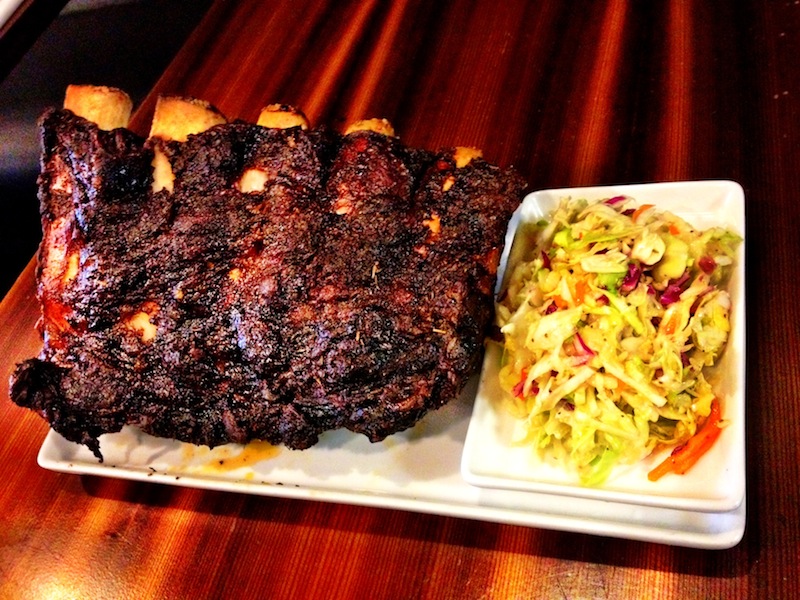 Smoked Spare Ribs Photo courtesy of Milt's Barbecue
Break out of your brunch rut and try one of the new brunches popping up around town. Whether your morning tastes run more toward banana pancakes or BBQ, there's a meal fit for your palate.
IPO Restaurant, located in the W Chicago City Center, features Executive Chef Trevor Hoyte's brunch dishes, such as banana pancakes with cinnamon and Nutella, fried chicken and biscuits with bourbon maple butter, and a pesto egg white breakfast burrito.
La Sirena Clandestina's new brunch menu features breakfast empanadas with bacon, sage, and cheddar; a lamb torta with mango habanero slaw, and fried French toast. Wake up with a Pisco Bloody Mary or try a combination of Fernet Branca and Mexican Coke.
Milt's Barbecue for the Perplexed, the kosher BBQ restaurant, now offers Sunday brunch featuring weekly specials and made-to-order omelets, French toast, lox and bagels, and breakfast sandwiches. Also new are sidewalk café tables, so you can soak up the sun along with your brunch cocktail.
Siena Tavern, Fabio Viviani's Italian restaurant, has also launched a new brunch, which features dishes like squash blossom and prosciutto frittata, truffle scrambled eggs, and almond pancakes.
IPO Restaurant
172 West Adams Street, Chicago
(312) 917-5608
Website
La Sirena Clandestina
954 West Fulton Market, Chicago
(312) 226-5300
Website
Milt's Barbecue for the Perplexed
3411 North Broadway Street, Chicago
(773) 661-6384
Website
Siena Tavern
51 West Kinzie Street, Chicago
(312) 595-1322
Website