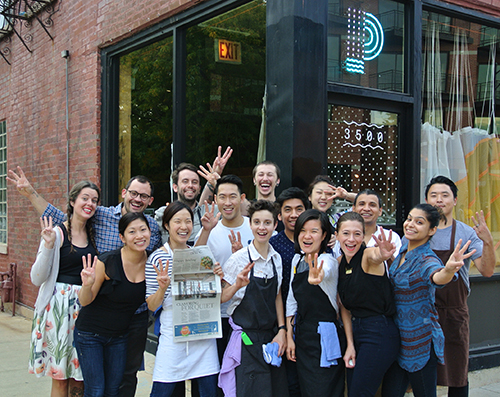 The staff of Parachute
Hello everyone! I'm so excited to start our 15th season of Check, Please! This is an exciting season with so many fantastic restaurants on the roster! I decided that this year I want to change up my blog a bit and chat some more with the chefs, restaurateurs, and beverage directors from our recommended spots. So for each post I will do a short interview highlighting one of the places we visited that week. This week I spoke with award-winning chefs Beverly Kim and Johnny Clark of Parachute as well as their beverage director Matty Colston. Here's what they had to say:
Q: What are the top five ingredients that every Korean pantry should contain?
Beverly and Johnny: Sesame oil, doenjang, gochujang, soy, and kombu.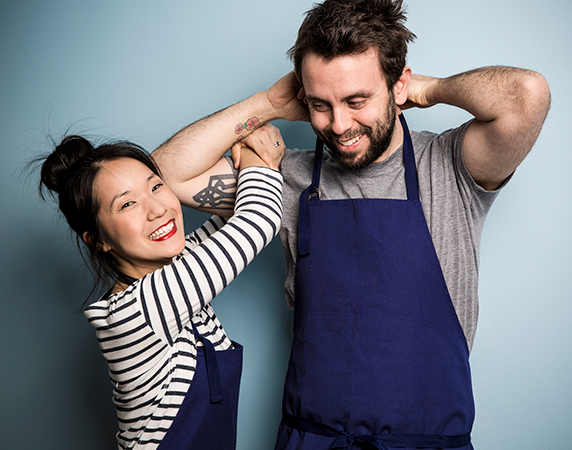 Beverly Kim and Johnny Clark
Q: What are some of the dishes that are on your menu (or have been on your menu) that you feel are most representative of your modern take on Korean cuisine?
Beverly and Johnny: Our bibimbop is an example of our modern take on the traditional bibimbop. We use different and creative ingredients than the typical traditional bibimbop. Also, the goat stew with rice cakes is a modern take on a traditional goat stew dish. Lastly, the porkbelly pancake is a modern take on the traditional bindaedduk mungbean pancake.
Q: Korean food has some pungent flavor elements. Give some tips on the best wine to pair with Korean food.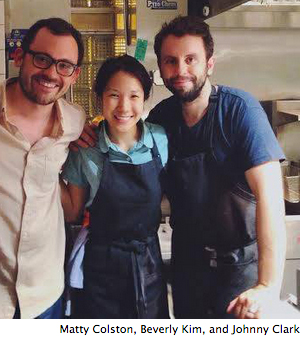 Matty Colston, Beverage Director at Parachute: Johnny and Beverly's food is a little more global than traditional Korean cuisine, and this has allowed me many fun opportunities to offer wines from all over the world with surprising results! We pour a sparkling rosé gamay from eastern France called "Bugey-Cerdon" that is low alcohol and slightly off-dry (slightly sweet). With a delightful fizzy sparkle and floral aromas, it has flavors of crunchy red apple and wild strawberry. This is a gratifying pair with kimchi – the subtle fizz of the wine and the teeming fermented quality of the cabbage along with that subtle sweetness to tame the heat from the Korean chilis. Riesling is also a common grape you'll find on the wine list, there's a whole section dedicated to it, but it's also fun to highlight unique and indigenous varietals you find on islands. Corsica, Sardegna, and Greece all produce wines that seem to have a generous textural character with great acidity that l find helps balance some of the bolder flavors at Parachute.
Q: What is each of your favorite dishes on the menu (past or present)?
Beverly: it's really hard to say which dish is our favorite because they are all loved for different reasons. Some are more comforting and some are more adventurous. I suppose you can say I love the goat stew on the menu right now for its earthiness and funk, and I just love bubbling broths.
Johnny: I really don't have favorites either as the menu changes constantly. I guess bing bread is the only selection that never gets old!
Q: As parents, chefs, and restaurant owners, you have little free time, but on the rare occasion that you go out to eat, what's your go-to spot?
Beverly and Johnny: Sometimes, we crave home-style Korean food but lack the energy to cook it ourselves at home. During those times, we go to Ban Po Jung. It's a hole in the wall off of Foster and Kimball that does the home-style favorites really well.
Stay tuned next week for three more great restaurants and some more inside dish right here on my weekly blog!
Cheers,
Catherine