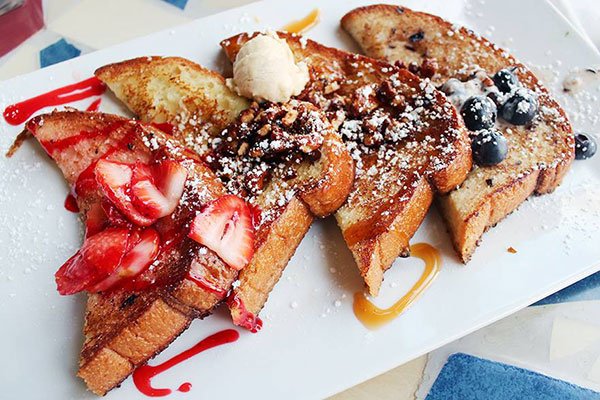 French Toast at Batter & Berries
Many people don't realize the episodes do not air in the same sequence in which they are shot. So although this season is almost halfway over, this is the first episode I shot as the new host of Check, Please! It was a nice coincidence that Trattoria No. 10 was included in this bunch since the executive chef Laura Piper was an instructor when I was a culinary student at Kendall College. Although she was not my teacher, she taught in the kitchen next door to Chef Pierre Pollin's (my instructor – and favorite at that) and would pop in to give additional tips and feedback on our work. As a woman in a male dominated field, it was inspirational to have a strong female presence around during my training. Although I don't work in kitchens anymore, I still do quite a bit of recipe development and testing work as part of my job.
And I love to cook for friends and family as well!
So in going to Batter & Berries where Chef Derek Rylon has made French toast a specialty since the restaurant opened, I was inspired to whip up some of my own and thought I would share the recipe with all of you. After the Christmas and New Year's holidays I always have leftover panettone in my house, so I am using that as the bread for the French toast.
Panettone is like the Italian version of a holiday fruitcake (in sentiment, not flavor), except this gets eaten! An Italian sweet bread that is light, buttery, and studded with candied fruits, it's often given and served at the holidays to family and friends…although it is becoming available year-round at Italian specialty shops like Eataly.
Here's my simple recipe for using up any leftover panettone this season!
Panettone French Toast Recipe
Ingredients:
6 3/4 inch slices Panettone
5 eggs
1 1/2 cups heavy cream (whole milk or half and half can be substituted)
2 tablespoons sugar
2 teaspoons vanilla extract
1 teaspoon cinnamon
Pinch of freshly grated nutmeg
Pinch of salt
4 1/2 tablespoons unsalted butter
2 teaspoons orange liqueur such as Cointreau or Grand Marnier (optional)
Method:
Making the custard: In a wide shallow bowl or baking dish, beat the eggs and then whisk in the heavy cream, sugar, vanilla extract, cinnamon, nutmeg, salt, and orange liqueur if using until combined.
Cooking the French toast: In a large cast-iron skillet (10-12 inches) over medium heat, melt 3/4 tablespoon of butter. Take a slice of panettone and submerge it in the custard allowing it to absorb the mixture; repeat on other side. Allow excess mixture to drip off before placing in hot skillet. Cook for 1 1/2 to 2 minutes on first side until golden brown and then flip and cook for an additional 45 seconds to 1 minute on the other. Don't try to rush the process by raising the heat as you will scorch the outside and leave the inside uncooked. Good things come to those who wait! Repeat with remaining slices of panettone.
To serve: Garnish with powdered sugar, your favorite syrup, orange marmalade, or a dollop of lightly sweetened mascarpone cheese and orange zest. Serve immediately.
I hope everyone is off to a wonderful 2014! Stay warm and eat well!
Cheers,
Catherine